Weather of Arabia - The latest weather maps received from global centers and others developed from Arab weather internally indicate that the air heights in the upper layers of the atmosphere are expected to gradually deepen in the coming days on the Arabian Peninsula, this situation will enhance the power of the thermal dome over the region to enter other Arab countries under its influence.
And it is expected, God willing, that the Levant, Egypt and the north of the Kingdom of Saudi Arabia will remain under the influence of the thermal dome on Friday, and even Iraq and Kuwait will also enter under its influence, and this will cause temperatures several degrees higher than their usual rates, with hot weather in most regions, And even approaching 50 ° C in southern Iraq and Kuwait.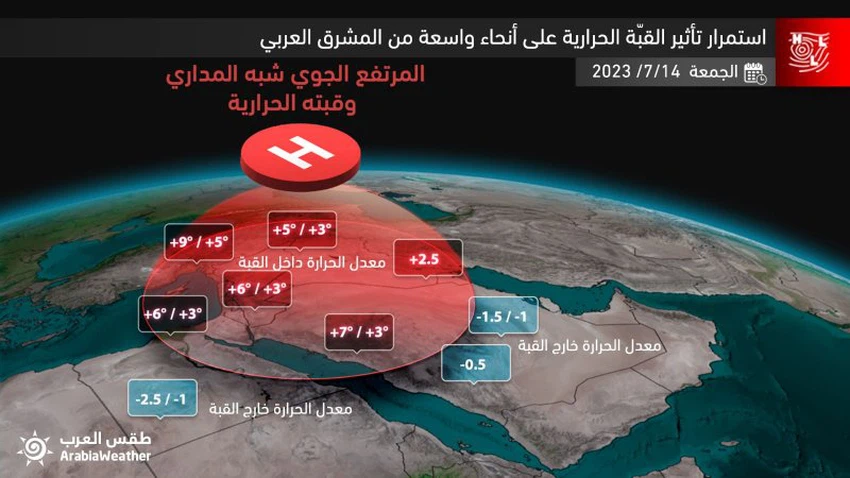 As for the next week, it is expected that the effect of the heat dome will intensify over large parts of the Arabian Peninsula, in conjunction with the deepening of the thermal depression in the Empty Quarter, as high temperatures will affect most parts of the Kingdom of Saudi Arabia, in addition to all Gulf countries, including the Emirates and Oman.
And it is expected that the Gulf countries will lead the highest temperatures on the planet, as temperatures exceed 50 degrees Celsius in several parts of Kuwait, eastern Saudi Arabia, and the desert parts of the Emirates and Oman, with weather described as very hot.
And the expected heat wave comes next week on the Gulf countries, because the heat dome caused by the seasonal Arab upper elevation prevents winds during the day from returning heat to the atmosphere, so it remains trapped in the lower layers within the framework of this heat dome (which is in the form of a dome and a cover ), with the continuation of solar heating, we feel intense heat during daylight hours, especially in urban areas where concrete cities are, as roads and buildings represent one of the reasons that increase its impact.
God knows best and highest.
This article was written originally in Arabic and is translated using a 3rd party automated service. ArabiaWeather is not responsible for any grammatical errors whatsoever.