Weather of Arabia - 28 km from Irbid Governorate, in the north of Jordan, is the archaeological city of Umm Qais , a place that combines the charm of the present and the nobility of the past, where you find among its stones and columns stories written by successive civilizations, inhabited the city and left a distinguishing mark in it.
This is in addition to the distinct view of the ancient city. Once reached, the Yarmouk River, the Golan Heights and the Sea of Galilee appear in front of the visitor. This distinct view of "Umm Qais" comes from its strategic location, which overlooks the Golan Heights, northern Palestine, Jabal al-Sheikh and southern Lebanon.
Umm Qais was also distinguished by the fact that it was the city of wise men and philosophers, and among its most famous poets was "Arabius, who inscribed on one of its stones a wisdom saying: "O you who pass from here, as you are now I was, and as I am now you will be, so enjoy life because you are mortal."
The history of the archaeological site of Umm Qais dates back to the Greek era. It was known in ancient times as Jadara , and it is one of the ten Greco-Roman cities (the Decapolis). Today, its monuments vary between Greek, Roman, Byzantine and Islamic buildings.
The ancient city of Umm Qais was built using the beautiful black basalt stone. Among the most prominent monuments in the site are: the northern and western theaters, the churches square, the balcony, the main street, the path of the nymphs, the royal cemetery and the Tiberias Gate.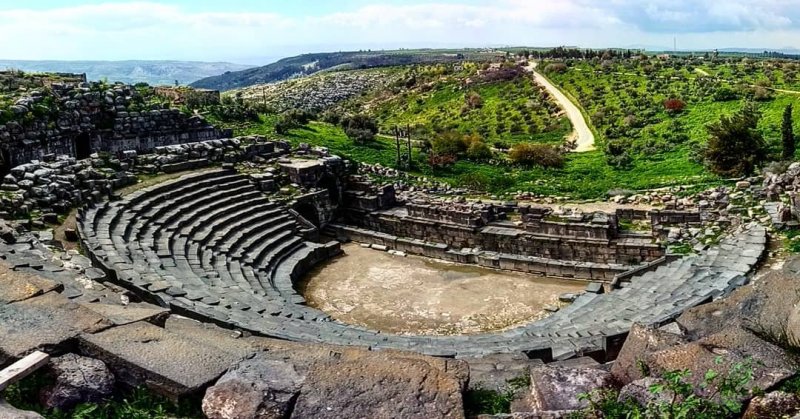 The archaeological site also includes an Ottoman village, long underground water tunnels, a Byzantine bath complex, a visitor center and a museum that was originally used as the home of the Ottoman ruler. them on site.
Jordan in general is a beautiful country, and Umm Qais is a beautiful green piece of land. In this article, we have provided you with brief lines about this place, with its picturesque nature and distinctive monuments, and it welcomes its visitors throughout the year.
Are you planning to visit Jordan and the archaeological site of Umm Qais, see details from here
This article was written originally in Arabic and is translated using a 3rd party automated service. ArabiaWeather is not responsible for any grammatical errors whatsoever.