Arabia Weather - The city of Dubai in the United Arab Emirates is always a source of luxury and creativity, and recently, Dubai added a touch of wonderful natural beauty with the opening of the twelfth season of the "Dubai Miracle Garden" in Dubai, which is the largest natural flower garden in the world. This season is also distinguished by many surprises. And stunning designs.
On September 29 , the park began receiving visitors from inside and outside the Emirates, as it continues to develop itself as a wonderful entertainment destination that attracts visitors of all ages. The park aims to bring happiness to the hearts of visitors through its amazing displays and unique designs. Among these offers, the park stands out. The Smurfs, which has been expanded and beautified to become a distinctive attraction, with the addition of more bright figures of colors and shapes.
Features of the twelfth season of Dubai Miracle Garden
The opening of this season reflects the UAE's commitment to providing unique experiences to visitors and enriching their lives with natural beauty and wonderful art. If you are looking for a place to enjoy the beauty of flowers and creative designs, the Dubai Miracle Garden is your ideal destination in Dubai, as the Miracle Garden extends over an area of more than 72,000 square meters . Square metres , which is an exceptional experience for flower lovers and lovers of natural beauty. This charming garden comes with an amazing design and careful coordination that includes hundreds of thousands of diverse flowers and plants from different parts of the world and many features, including:
The number of retail stores in the park has been increased to provide a wide range of food and drinks to suit all family members.
The number of seats in the garden has also been increased to provide visitors with the opportunity to enjoy the charming atmosphere and stunning views of flowers with their beautiful colors and unique designs.
The main landmarks in the garden include flower tunnels, 3D water fountains, and lighting poles. It also hosts a model of the famous Emirates Airlines A380 aircraft, which entered the Guinness Book of World Records with more than 500,000 flowers and plants.
The park also contains a 'Flower Tunnel' and a 'Garden of Lakes' , and a new, larger water wheel has been added to accompany the two smaller ones already in place.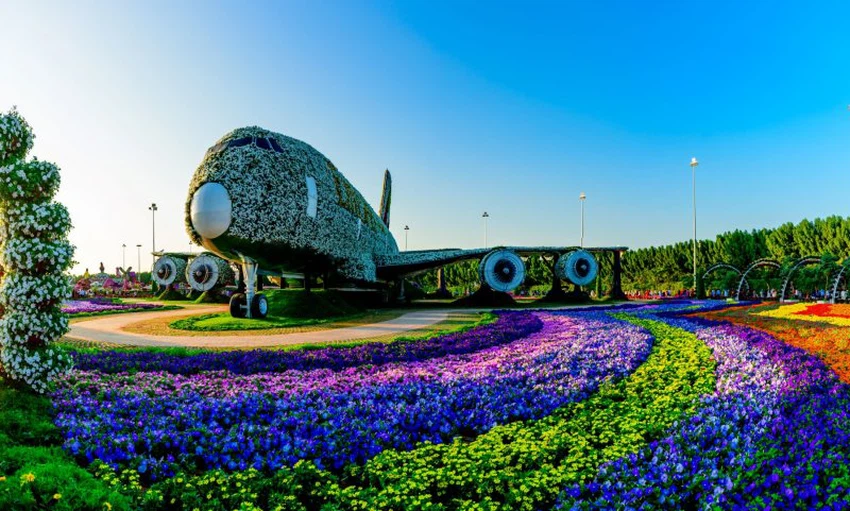 For visitors who wander through the Miracle Garden, there will be a unique opportunity to enjoy the beauty of flowers and inhale the pleasant scents throughout the garden. Here you will find a variety of colorful tropical flowers, vast green spaces, and innovative artistic designs that reflect the skill of the gardeners and designers who worked to create this breathtaking visual display. .
Miracle Garden reflects Dubai's commitment to dazzling the world with its wonderful projects and providing unique experiences for visitors, and if you are a fan of flowers and natural beauty, then this garden is your next destination in Dubai.
Also know:
A space park...Chinese astronauts take care of it
Jordan | Trees and plants bloom earlier due to the warm weather. Is this good or bad?
---
Sources:
This article was written originally in Arabic and is translated using a 3rd party automated service. ArabiaWeather is not responsible for any grammatical errors whatsoever.