Arab Weather - It is expected that an air height will be located in all layers of the atmosphere over the Levant region, to ensure the prevalence of stable weather throughout the current week in all regions with fluctuations in the atmosphere between relatively hot to hot.
Temperatures will rise further on Sunday and Monday, to be higher than their rates for this time of year in all regions, as the weather becomes relatively hot in general in most regions, and hot in the Jordan Valley and desert regions, with the emergence of clouds at different altitudes, especially high The winds will be northwesterly moderate, activating in the afternoon and causing dust in the eastern Levant.
Increased effect of hot air mass
The intensity of the hot weather will intensify from Tuesday to Thursday, when it is expected that the weather will be between hot to very hot in various regions, and temperatures are expected to reach more than 10 degrees Celsius away from their general rates for this time of year, and quantities of medium and high clouds appear. It is actively associated with the speed of the westerly winds and causes dust and dirt in some areas, and a dry climate prevails due to the low levels of surface humidity, but with the night hours, temperatures rise compared to the previous nights, so the weather tends to warm in all regions.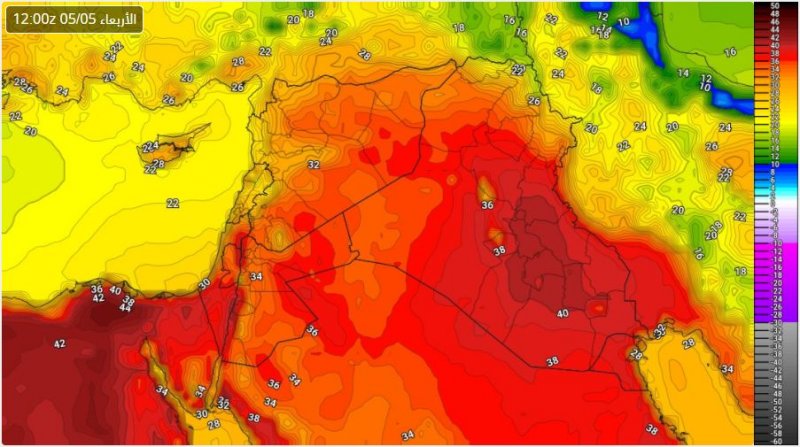 Temporary dip on the Friday heat
The hot weather will temporarily decline on Friday, so that temperatures will decrease, especially in the western regions of the Levant and the high mountainous elevations, but despite this the region generally remains under the influence of hot weather, and temperatures remain higher than their average at this time of the year, and appear with the afternoon and evening hours Some high clouds, while the winds will be westerly to northwesterly moderate, active at intervals.
This article was written originally in Arabic and is translated using a 3rd party automated service. ArabiaWeather is not responsible for any grammatical errors whatsoever.