Weather of Arabia - Global monitoring centers revealed a rapid development of the depression that currently affects the eastern Mediterranean to the level of the Mediterranean storm, or what is known as Medicane , upon its arrival in the area between the coasts of Syria and the island of Cyprus, where satellite images clearly showed the eye of the storm It appears to the west of the Syrian coast on Wednesday morning.
The name ELAINA was given to the Mediterranean storm in the eastern Mediterranean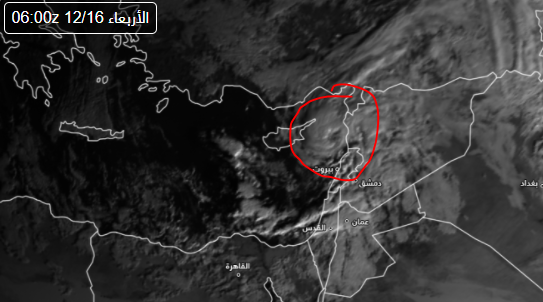 It is expected that the storm will move south towards the coast of Lebanon during the hours on Wednesday
The eye of the storm remains above the waters off the coast of Syria until Wednesday noon, but it begins to move south towards the coast of Lebanon later, with its position above sea water, where it acquires more moist characteristics and maintains its strength.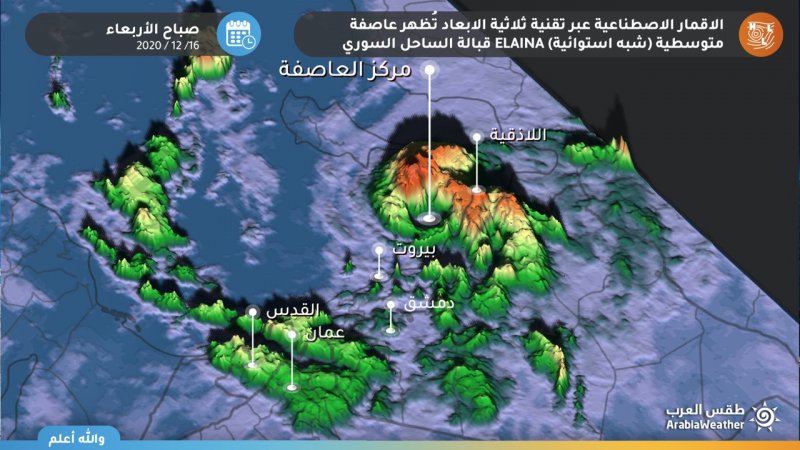 The storm is expected to bring Lalaina large amounts of rain on the coast of Syria and Lebanon on Wednesday and Thursday, in addition to large amounts of snow over the high mountains of Lebanon, also working the storm on the sea disturbance and high waves on the pan east coast of the Mediterranean.
Storm Elena has a lighter effect on Palestine and Jordan
The effects of the Mediterranean storm Elena are limited to Jordan and Palestine in the form of thunderstorms and a drop in temperatures, as showers of rain fall at periods that are sometimes heavy in northern and central Palestine and Jordan and extend later towards the southern regions of the two countries, and temperatures drop due to the cold air mass accompanying the situation Mediterranean
Consequently, the effects of the Elaina storm will be in the form of an air depression that has been classified on Jordan as a second-degree depression according to the Arab Weather Scale to measure the intensity of the depressions.
This article was written originally in Arabic and is translated using a 3rd party automated service. ArabiaWeather is not responsible for any grammatical errors whatsoever.