Weather of Arabia - Imagine walking on a wide land through which you see an amazing view of the sky and everything under it.. This is the "Sky Mirror", the largest natural mirror that extends over the land of the largest salt desert in the world, so what is this mirror and how was it formed?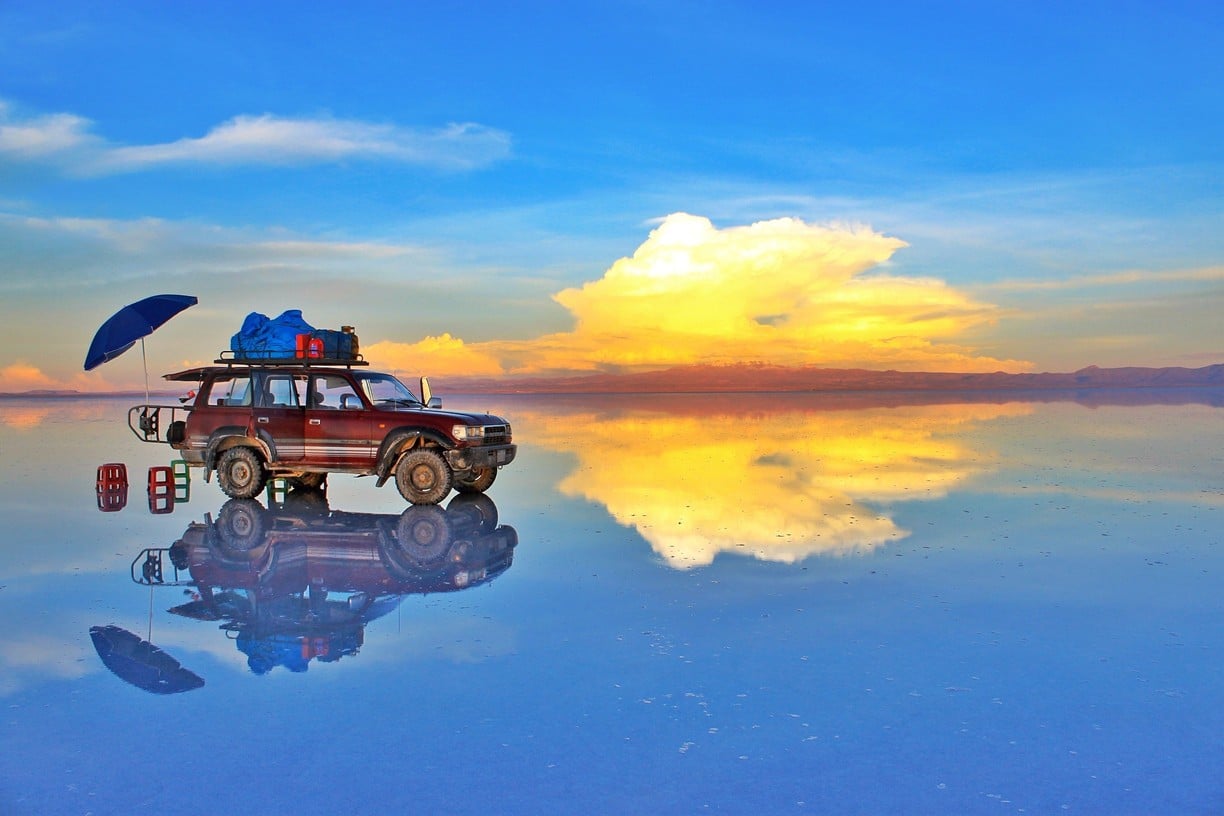 What is the "mirror of the sky" and how was it formed?
About 40,000 years ago, in the Salar de Uyuni region of Bolivia, there was a giant prehistoric lake, but the lake has dried up leaving a large expanse of salt and other minerals, which today attracts approximately 60,000 tourists each year.
As for how the mirror was formed, current research indicates that the area was covered by Lake Minchin, which was filled with water from the multiple surrounding mountains. As the water volume decreased amid rising temperatures, the giant Lake Minchin gave way to countless smaller lakes. Over the years, the water has slowly evaporated, leaving behind magnificent salt flats, but how do the salt flats reflect the scenes above them like a giant mirror?
The landscape changes throughout the year
One of the most impressive things about the Salar de Uyuni region is how the landscape changes during the year, as rains hit the region between December and April, giving it a magical mirror effect, so the visitor sees a pure reflection of the sky, to feel as if he is in a dream world, it is even Featured in Time magazine as one of the "Greatest Places on Earth".
The excessive amount of water can sometimes cause the cancellation of visitor tours, especially in the cold months, and during the dry season, tourists are free to explore the area with the absence of rain, especially since most of the natural area is flat, which creates a visual landscape that extends to infinity And an ideal location for taking pictures.. Glory be to the One who created this universe and its pictures in all its amazing details.
The area is also rich in important salts
The Salar de Uyuni desert is an important area not only for attracting tourists, it contains the largest reserves of salt, lithium and magnesium in the world, with up to 70% of the world's lithium reserves.
See also: Waterfall of Fire in Yosemite National Park in California .. How is that?
Learn about: The phenomenon of frozen bubbles that appear underwater .. amazing but dangerous
This article was written originally in Arabic and is translated using a 3rd party automated service. ArabiaWeather is not responsible for any grammatical errors whatsoever.