Weather of Arabia - The Levant, Egypt, Iraq and Saudi Arabia have been affected by unstable weather conditions due to the eruption of an air depression in the high air layers towards the eastern Mediterranean and northern Egypt, and in conjunction with the blowing of warm and humid air currents from sub-tropical shows, which led to the emergence of unstable weather conditions with a response The Red Sea depression is clearly and effectively superficial in both Egypt and the Levant, before it turns into a frontal air depression on Thursday and Friday
The rains began during the evening and night hours of Wednesday in the south of the Kingdom, specifically in the governorate of Aqaba, where heavy rains fell with the occurrence of thunderstorms, and the rain extended during the hours of Thursday morning to large parts of the southern regions
The unstable atmosphere worsened with Thursday afternoon and evening hours
The severity of the unstable weather increased in some regions of the Kingdom, concentrated in the eastern regions and parts of the southern regions, where the area of thunderstorms expanded and worked on heavy thunderstorms at intervals and led to the formation of torrents in many areas of the Kingdom, concentrated in the southern and eastern regions, and were in the form of torrents Sweeping in those areas
Read more || Hosha tunnel closed in Mafraq due to heavy rain
4 people died due to torrential torrents in Al-Ruwaished area
The torrential torrents formed in the Al-Ruwaished area, swept away four people and led to their loss at dawn on Friday, and rescue teams in the Civil Defense Directorate began searching for the missing persons, where they found one of the missing people who had died by the hours of Friday morning
The search for the other missing persons continued until Friday afternoon hours, when two people were found dead during the Friday afternoon hours (may God have mercy on them)
Search and rescue teams in the Civil Defense Directorate continued to search for the last missing person, and the body of the last person was found in the early morning hours of Saturday.
Read more || 14 million m3 of water entered the dams during the recent weather
The highest amount of rain in the Kingdom
The governorate of Mafraq had the highest amount of rainfalls during the Kingdom being affected by unstable weather conditions, with a rate of 47 mm, according to the Meteorological Department
We review for you the quantities of rainfall in the Kingdom during its affected by unstable weather conditions:
Irbid: 34.5 mm
Ajloun: Data not available
Jerash: 14.4 mm
Salt: 25.2 mm
Spread: 47 mm (according to the Met Office)
Blue: 26.7 mm
West Amman: 29.7 mm
Southern Oman: 23 mm
Madaba: 19.8 mm
Karak: Data not available
Buyer: 30.9 mm
Tafila: 16.8 mm
Glossiness: 0.9 mm
Obstacle: 8.1 mm
Read more || Covering the state of air instability affecting the Kingdom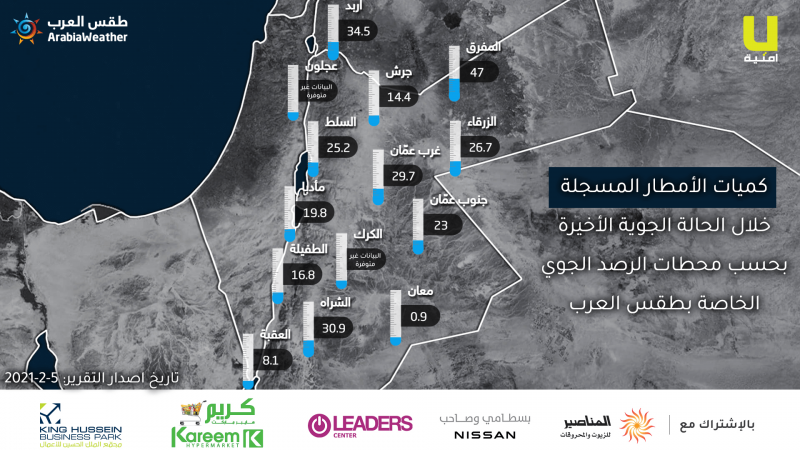 This article was written originally in Arabic and is translated using a 3rd party automated service. ArabiaWeather is not responsible for any grammatical errors whatsoever.