Weather of Arabia - Al-Bawareh winds blow over the Gulf countries usually begin with the end of May and continue until mid-July, and they are northwesterly winds from active to strong speed, blowing as a result of the deepening of thermal depressions in the region with the presence of an air elevation in the north of the Arabian Peninsula, and the most important What distinguishes the Al-Bawareh winds is its gradual activity with sunrise, to reach its peak during the noon and afternoon periods, which leads to raising dust and sometimes decreasing the extent of horizontal visibility, in addition to low levels of relative humidity.
Unusually, these winds were absent from the Gulf countries until the middle of June, and this is due to the unusual behavior of the atmosphere and the distribution of weather patterns in the region during the current month, which was represented by the eruption of a series of desert depressions (the fives) east of the White Sea. The Mediterranean and the Levant.
These weather conditions also coincided with a weakness in the subtropical high altitude on the Arabian Peninsula (the thermal dome) and the approach of the cold upper basins, which caused the pressure of the seasonal low pressure to fill and not deepen as usual.
And this led - God willing - to the absence of a significant difference in the values of atmospheric pressure (gradient pressure) between the north and southeast of the Arabian Peninsula, which caused an almost complete absence of the dry winds of Al-Bawareh.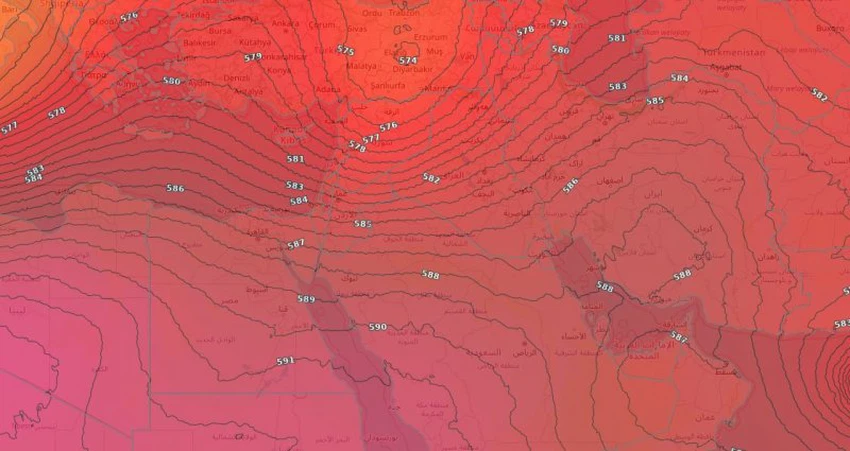 And the medium-term computer forecast maps indicate that there is an expected change in the weather systems in the region during the second half of the month, in a manner identical to what was stated in the monthly weather forecast that was issued at the beginning of this month, and this is represented by the blowing of Al-Bawareh winds over the Gulf countries on an almost daily basis and This includes Kuwait, Qatar and Bahrain, in addition to eastern and central Saudi Arabia, causing dust waves and a significant decrease in the horizontal visibility on some days.
This article was written originally in Arabic and is translated using a 3rd party automated service. ArabiaWeather is not responsible for any grammatical errors whatsoever.