Weather of Arabia - A scientific study revealed that the possibility of drought in the "Horn of Africa" has become about 100 times more, due to the climate crisis caused by man. The region is facing the strongest drought in nearly four decades. It resulted from an unprecedented combination of lack of rain and high temperatures, and this would not have happened had it not been for greenhouse gas emissions.
"Human-induced climate change has made the potential for agricultural drought in the Horn of Africa 100 times greater," said the World Weather Attribution Network, which is evaluating the relationship between extreme weather and climate change.
More than 43,000 people were killed in Somalia alone, last year, due to these climatic conditions, half of them were children under the age of five, while about 36.4 million people are at risk of starvation.
Since the end of the year 2020, the countries of the wider Horn of Africa (Ethiopia, Eritrea, Somalia, Djibouti, Kenya and Sudan) in the east of the African continent have been witnessing the worst drought in their history in 40 years.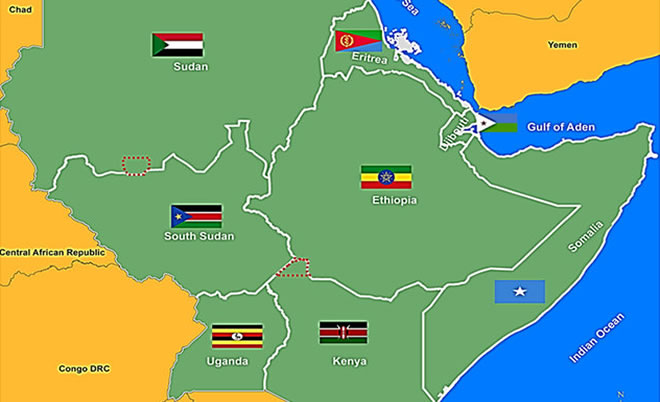 (the seven countries of the Horn of Africa)
Five consecutive seasons of no rain have killed millions of livestock, destroyed crops and prompted millions of people to leave their areas in search of water and food elsewhere.
The authors of the study pointed out that climate change affected "slightly the recent annual rainfall amounts" in the region, but strongly affected the rise in temperatures responsible for a sharp increase in evaporative transpiration that led to a record drying of soil and plants.
The World Weather Attribution team believes that the Horn of Africa region should be better able to adapt to severe droughts in the future, through the use of both new technology and traditional knowledge.
Frederick Otto, senior lecturer in climate sciences at Imperial College London, said: "This study clearly shows that drought is more than just a lack of rain, and that the effects of climate change depend strongly on how poorly we deal with it."
This article was written originally in Arabic and is translated using a 3rd party automated service. ArabiaWeather is not responsible for any grammatical errors whatsoever.