Weather of Arabia - The holy capital and its surrounding areas were affected by a violent weather condition on Tuesday, which was accompanied by heavy rains accompanied by thunderbolts and downward winds from thunderclouds, which led to torrential rains and a rise in the water level in the streets in many neighborhoods.
And these violent cumulus clouds formed with the afternoon hours of Tuesday 8-22-2023 over the eastern highlands of Makkah Al-Mukarramah, and gradually moved to the holy capital with the evening hours, and these cumulus clouds were characterized by an abundance of lightning strikes as a result of the intensity of convection and the abundance of air moisture in the most layers of the atmosphere.
The formation of these violent clouds comes as a result of the availability of many weather conditions, most notably:
Local factors such as high surface temperatures, diurnal heating, and the topography of the Hijaz Mountains (these are the most important lifting mechanisms for the formation of cumulonimbus clouds).

These factors allow the expulsion of air to rise from the surface to the level of convection. (strong upwind)

And the construction of heavy cumulus clouds in the range of collision of winds with different characteristics (east of the heights of Makkah).

This coincided with the availability of distinctive upper conditions of humidity and less hot air.

As a result of the dominance of the eastern regions in the high and middle layers of the atmosphere, the rainy cumulus clouds rushed to the west towards the Holy Capital.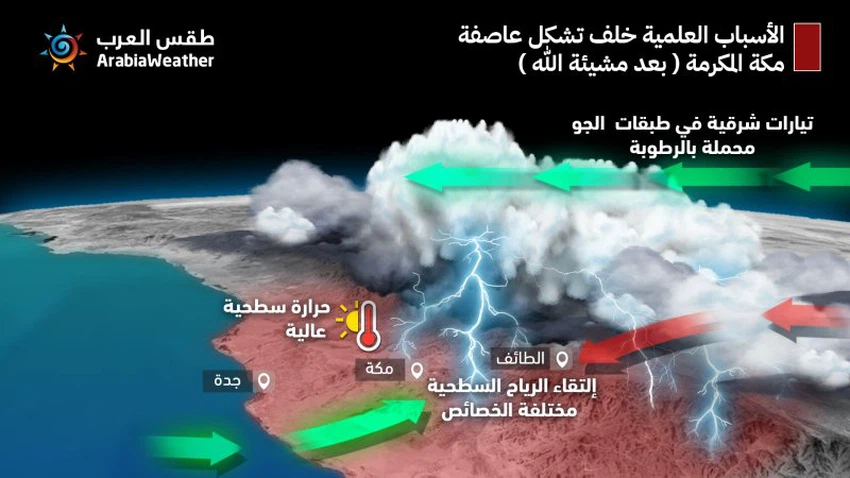 This article was written originally in Arabic and is translated using a 3rd party automated service. ArabiaWeather is not responsible for any grammatical errors whatsoever.