Weather of Arabia - The National Institute for Astronomical Research announced a statement regarding the most important astronomical phenomena and events for the month of June 2022, and referred to the phenomena according to days, which came as follows:-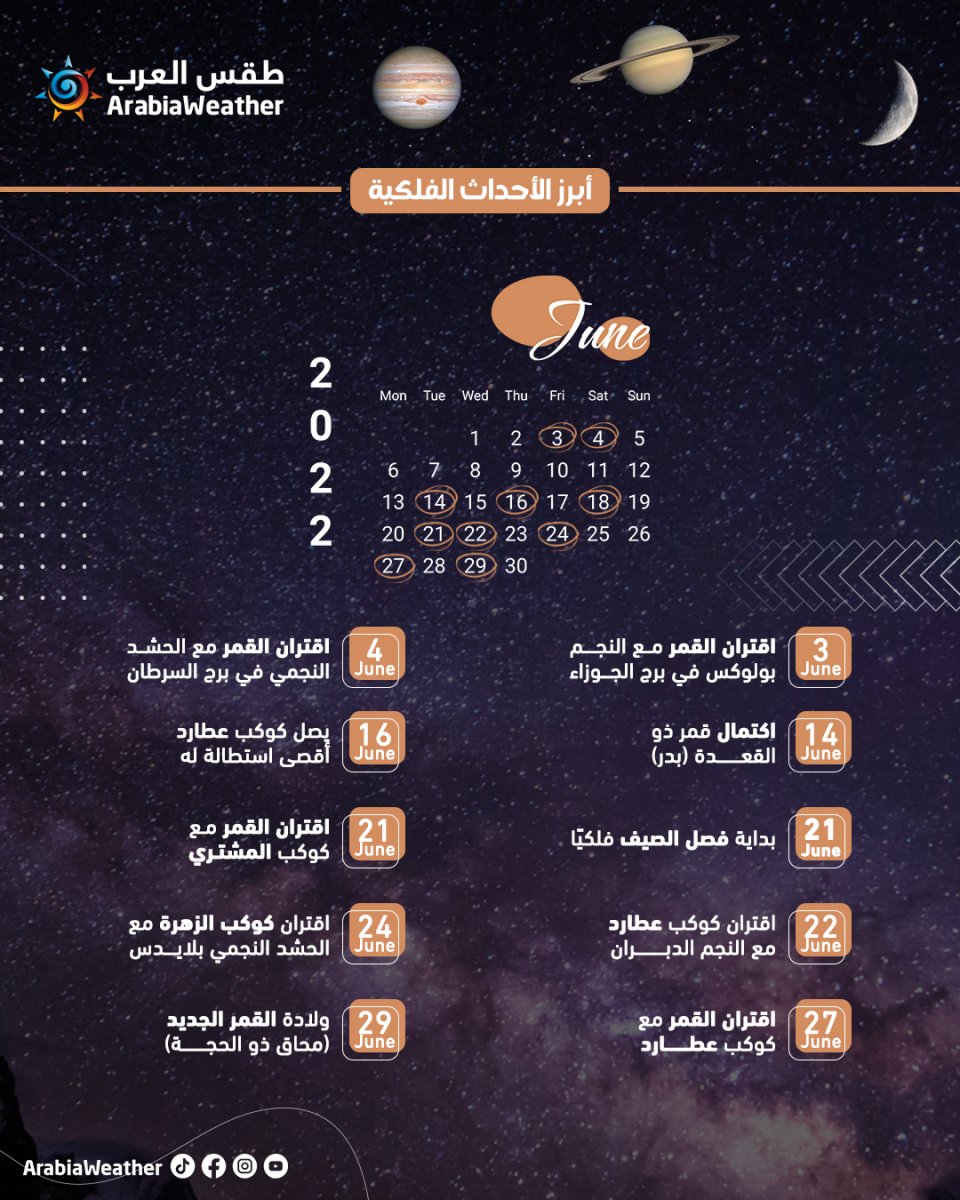 Friday - June 3, 2022: The moon is associated with the star Pollux in Gemini at nightfall and until sunset at approximately nine thirty in the evening.
Saturday - June 4, 2022: The moon is associated with the star crowd The beehive in Cancer on this day..
Tuesday - June 14, 2022: Full Moon (Badr Dhul Qi'dah), when the moon's disk is completely complete and its brightness reaches 99.7%. This full moon is known to American tribes as the strawberry moon, coinciding with the strawberry harvest at this time of the year.
Thursday, June 16, 2022: Mercury reaches its maximum elongation of 23.2 degrees from the Sun, which is the best time to view and photograph Mercury.
Saturday, June 18, 2022: The moon is in conjunction with the planet Saturn on this day.
Tuesday, June 21, 2022: the summer solstice, when the North Pole of the Earth tilts towards the Sun, and its rays are perpendicular to the Tropic of Cancer, and this day is considered the astronomical start of summer, and the longest day of the year.
Tuesday, June 21, 2022: The Moon is in conjunction with Jupiter on this day.
Wednesday, June 22, 2022: Mercury is in conjunction with the star Aldebaran (Taurus' eye) on this day.
Friday, June 24, 2022: Venus is in conjunction with the constellation Plaids (Seven Sisters) in Taurus.
Monday, June 27, 2022: The moon is in conjunction with Mercury on this day.
On Wednesday, June 29, 2022: New Moon (Mahaq Dhu al-Hijjah).. The moon will not be visible in the sky all night, which is the best time to observe faint celestial bodies such as galaxies, star clusters, and stars of distant constellations.
You may also be interested in:
Giant strawberry moon.. what is it? How can it be viewed?
10 fun facts about the summer solstice
See the picture.. A distinctive phenomenon that occurred on the moon in conjunction with the appearance of the crescent of the month of Shawwal
This article was written originally in Arabic and is translated using a 3rd party automated service. ArabiaWeather is not responsible for any grammatical errors whatsoever.