Weather of Arabia - Sinan Khalaf - for the first time this year, it is expected that the sun will perpendicular to the Kaaba at noon next Saturday, May 28, 2022 AD, when the sun will be vertical above the Kaaba, causing the Kaaba's shadow to completely disappear from its four sides.
The sun perpendicular to the Kaaba .. How does it happen?
The perpendicularity of the sun above the Kaaba occurs as a result of the Earth's rotation around the sun, in addition to the geographical location of Makkah between the Tropics of Cancer and Capricorn, which makes the sun perpendicular to the Kaaba twice every year.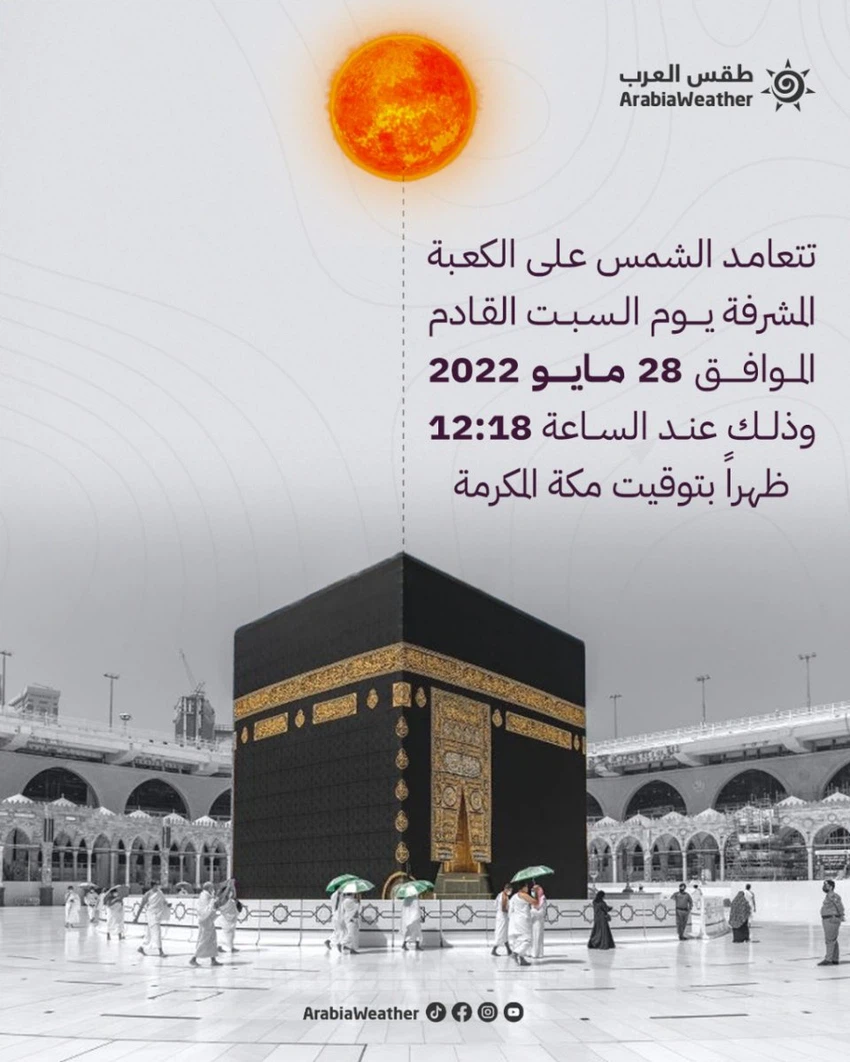 When will the sun pass over the Kaaba?
The first perpendicularity of the sun on the Kaaba occurs at noon next Saturday, May 28, 2022 AD, and the sun will reach the point of perpendicularity at approximately 90 degrees at 12:18 pm Mecca time, the time of the noon call to "meridal" at the Grand Mosque, and at that time the shadow of the Kaaba will disappear completely and the shadows of the bodies In Mecca, the shadow of the meridian becomes zero.
How do we determine the direction of the sun over the Kaaba?
The sun's perpendicularity over the Kaaba is used to determine the direction of the qiblah in areas geographically far from Makkah al-Mukarramah in Arab and Islamic countries and areas where the sun is above the horizon, by planting a piece of wood or plastic vertically on the ground and the shade is monitored and the direction of the qiblah is in the direction Opposite the shade so that the extension of the shade indicates the location of the Kaaba, knowing that this method is not useful for areas such as Jeddah and Taif due to their location near Mecca.
This article was written originally in Arabic and is translated using a 3rd party automated service. ArabiaWeather is not responsible for any grammatical errors whatsoever.