Weather of Arabia - After a 43-year calm, the "Taal" volcano erupted in the Philippines on Sunday, January 12, 2020, as it began its activity with ground vibrations and thundering sounds, after which a cloud of ash rose to the sky, and then the volcano began spewing lava in the early hours of the next morning (Monday).
Taal volcano is a small volcano located in the middle of Taal Lake in Batangas province, about 66 km south of the center of the capital, Manila. The deadliest were in 1911, which killed more than 1,300 people.
With the last eruption in 2020, ash and steam were released into a white and gray cloud with a height of 15 kilometers, and the Philippine Institute of Volcanology and Seismology raised the warning level to the fourth degree from five degrees, which means that volcanic eruptions are possible within hours or days. The institute also warned of a volcanic tidal wave and rapid currents of warm gas and volcanic materials that may hit areas around Lake Taal.
Flashes of volcanic lightning
Among the distinctive events that accompanied the eruption of the "Taal" volcano, the appearance of flashes of lightning around the ash clouds, so-called "volcanic lightning", which occurs as a result of the positively charged particles that the volcano emits into the atmosphere, and when they reach areas with negative charges, the electric discharge begins in the form of Lightning and lightning strikes to equalize the charges in the atmosphere.
Rain of mud and ash
So many towns and cities surrounding the volcano were covered in thick ash, that markets were running out of respirators. A person died after the bus he was driving overturned, in light of the lack of visibility due to the volcanic ash. Three passengers were injured in the accident, which occurred in the city of Calamba in Laguna province, south of Manila.
Near Talisay, regular umbrellas did not work against a rain of ash, mud and stones, with authorities in some neighborhoods issuing mandatory evacuation orders, and others fleeing on trucks that had to drive along muddy and ash-stained roads.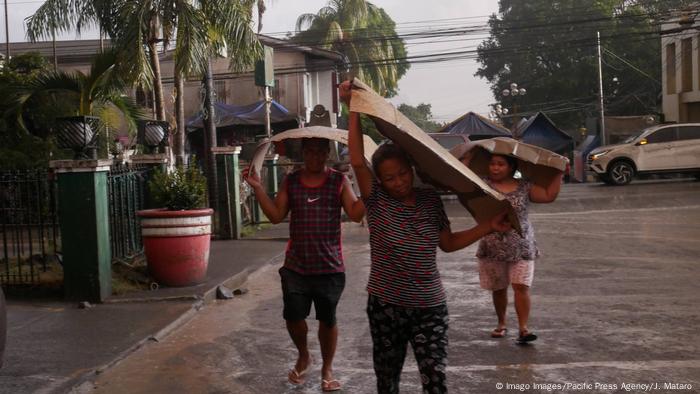 Classes were suspended and government offices closed on Monday (January 13, 2020) in Metro Manila, Batangas and 11 other provinces affected by the eruption.
Cancel flights
More than 500 flights were canceled from Manila International Airport, as Manila International Airport authorities announced that ash covered the airport's runways and pavements less than an inch during the night of Sunday on Monday, and Manila International Airport partially resumed operations on Monday noon.
This article was written originally in Arabic and is translated using a 3rd party automated service. ArabiaWeather is not responsible for any grammatical errors whatsoever.