Arab Weather - The latest output of the numerical models processed by the Air Operations Department of the Arab Weather Company indicates that the northeastern coast of the Philippines was affected during Saturday evening by the cyclone CHANTHU / Chanto of the fifth degree (the harshest degree according to the Sphere Simpson index to measure the intensity of hurricanes), as the hurricane brings winds Strong winds with speeds of about 135 knots and heavy rains, in addition to the waves rising on the beaches of about 6 meters, which is working to drown the northeastern coastal cities and predictions of catastrophic damage after the typhoon moved to its second station, which is Taiwan.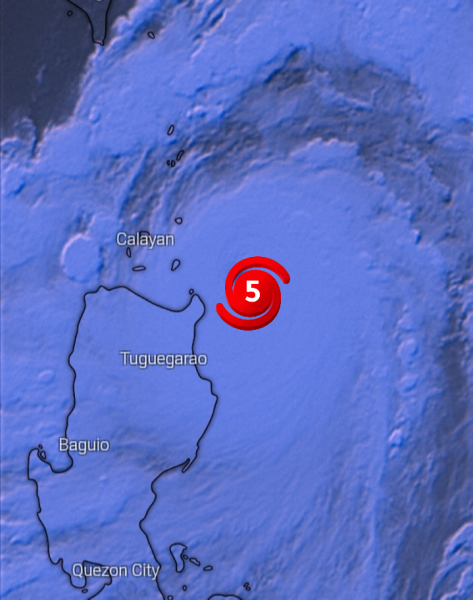 Typhoon CHANTHU/Chantou moves toward Taiwan on Saturday and Sunday, causing catastrophic damage
Tropical Cyclone CHANTHU / Chanto is moving on Saturday and Sunday towards Taiwan, bringing with it torrential rains and strong and destructive winds with a speed of about 135 knots, causing huge waves of more than 8 meters in height.
Typhoon CHANTHU/Chanto retreated to Category 4 and moved towards China and Japan at the beginning and middle of the week
Tropical cyclone CHANTHU/Chanto will retreat in intensity early next week as it moves to the eastern coasts of China and later towards Japan, where the classification of the typhoon declines to the fourth degree and remains within high destructive levels, bringing with it heavy rain, strong winds and sea waves with a height of about 5 meters.
The rise in surface temperature of the waters of the Pacific Ocean is the main cause of the development of cyclone CHANTHU / Chanto to destructive levels
The high surface temperature of the sea or ocean is the main nutrient for tropical/tropical conditions around the world, and the reason for the development of tropical cyclone CHANTHU/Chanto to destructive levels is due to the rise in the surface temperature of the waters of the Pacific Ocean, where the ocean surface temperature reached 30 degrees Celsius, which means an increase in the processes of Evaporation, which contributed to the development of the hurricane to high levels of destructiveness.
This article was written originally in Arabic and is translated using a 3rd party automated service. ArabiaWeather is not responsible for any grammatical errors whatsoever.