Arab weather - every year and during the period from June to November, the season of hurricanes and tropical conditions begins in the mid-Atlantic and gradually moves towards the Gulf of Mexico or the eastern coasts of the US states, and the latest information issued by the forecast staff at the Arab Regional Weather Center indicates the formation of a central tropical state. It is expected to move gradually towards the US state of Florida in the coming days.
Tropical status is classified as a storm
In the details, Tropical Storm Elsa arrived this morning, Monday, the Republic of Cuba, and was accompanied by heavy rain and strong winds, whose gusts exceeded the 100 km / hour barrier. Florida before it deepens to land, and although Tropical Storm Elsa did not rise to the strength of a hurricane, it is expected to be accompanied by heavy rains exceeding 200 mm on the state of Florida during the period of its impact, and according to the latest indicators, the probability of Tropical Storm Elsa developing into a hurricane has decreased.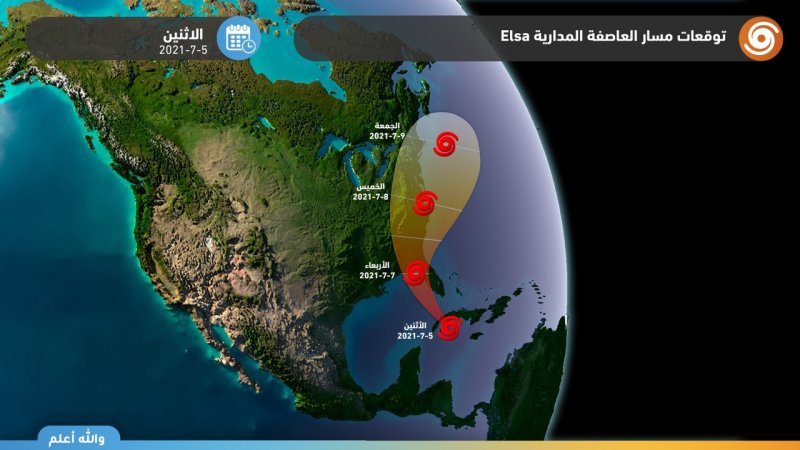 As the tropical storm deepens towards Florida on Wednesday, it is expected to result in flooding and high winds in many areas in the southeastern parts of the United States, and it is worth noting that the longer Storm Elsa stays over the warm waters of the Gulf of Mexico and the Caribbean Sea, the greater the accompanying rains will increase. , as it is known that these tropical states feed directly on the high temperatures, which contribute significantly to the increase in their strength, as they represent the fuel that provides them with the necessary energy.
Hurricane season forecast around average
It is expected that this year's hurricane season will be around its normal rates, as a result of warmth in most of the MDR cyclone development zone, where the ocean surface temperature ranges from 1-2 degrees Celsius above the normal range, and this is due to the movement of surface and deep sea currents, which follow several weather conditions, including The movement and flow of winds from east to west, which means slow in shear winds, which means that wind speed and directions do not change much as they rise in the atmosphere, and this is important because these winds can prevent convection from growing.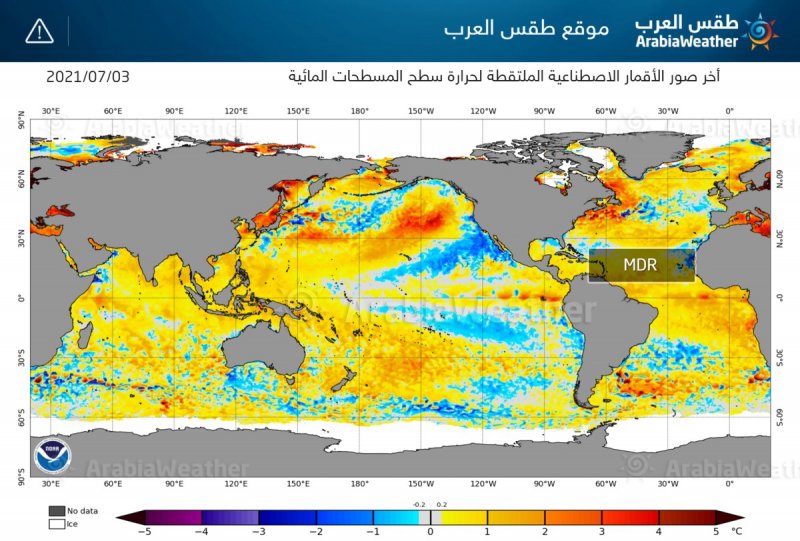 This article was written originally in Arabic and is translated using a 3rd party automated service. ArabiaWeather is not responsible for any grammatical errors whatsoever.