Arab weather - according to the latest update of the observed tropical situation, which was named Shaheen over the northern Arabian Sea, it is stationed on Friday morning to the south of the coast of Pakistan and moves west parallel to its coast, and it has developed into a tropical storm as soon as it crosses over the waters of the Arabian Sea, specifically to the northwest coast from India on Thursday.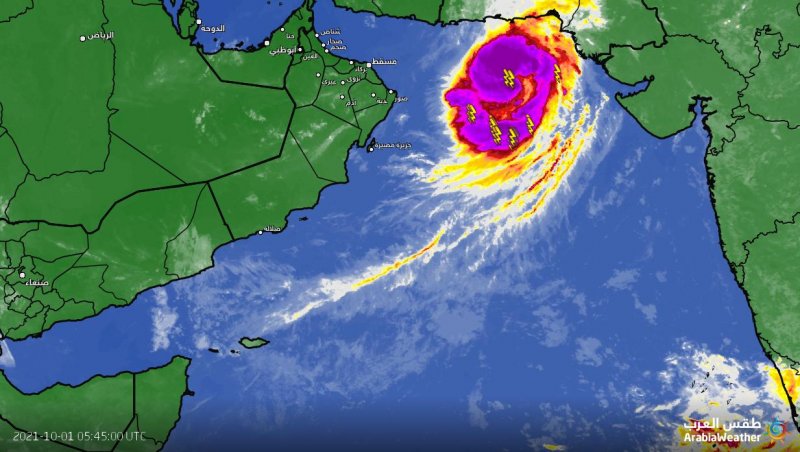 Storm Shaheen is on its way to the Sea of Oman
With the apparent warming of the waters of the northern Arabian Sea, it seems that Storm Shaheen will find the way to the west over the warm waters of 30 degrees Celsius, which is a suitable degree to feed tropical conditions and their development, and to pump huge amounts of moisture and energy to continue the storm to move towards the Sea of Oman. Which is the likely path, according to Friday morning updates, 10/1-2021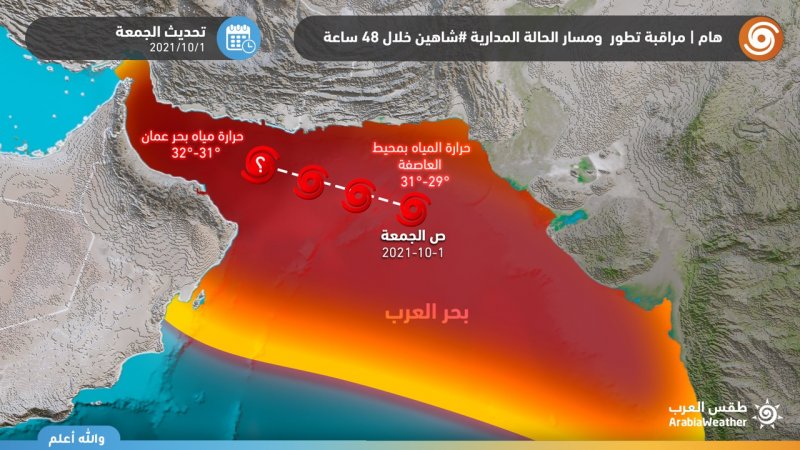 However, what is distinctive about the tropical condition Shaheen is that the shear winds are weak over the Sea of Oman, which supports the possibility of the storm moving directly towards the Sea of Oman, supported by the great warm water there, which may lead to the development and intensification of the storm.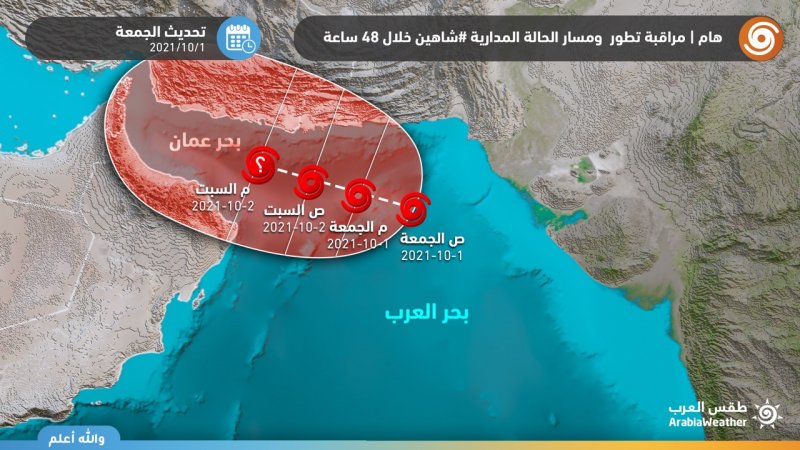 Will Storm Shaheen develop to the point of a hurricane?
This possibility is not excluded, as the weather conditions in the northern Arabian Sea region are suitable for the development of the tropical situation and its intensification during the next two days, but the possibility of the storm being exposed to dry winds coming from the Pakistani and Iranian deserts if the storm slows its movement west, if this happens, the storm will pull dry northern winds from the north This will lead to its weakness and disintegration.
When will the effects of the storm begin on the Sultanate of Oman and the Emirates?
The date of the storm's arrival to the Omani and UAE lands depends on the speed of the storm's movement, but in general, the forecasts of various weather models indicate that the storm will touch the Omani and UAE coasts overlooking the Sea of Oman either Sunday or Monday, before moving west towards the Hajar Mountains and the UAE interior, which will be accompanied by many weather phenomena. Including heavy rain and strong winds.
Arab Weather will keep you updated on the tropical situation, Shaheen, with weather bulletins and real-time updates.
This article was written originally in Arabic and is translated using a 3rd party automated service. ArabiaWeather is not responsible for any grammatical errors whatsoever.