Weather of Arabia - The southeastern regions of the Arabian Peninsula, including the northern regions of the Sultanate of Oman, will enter under the influence of a distinct rainy weather condition on Tuesday 25-7-2021, following unusual and exceptional behavior in the air system in the region, represented by the continuous extension of air depressions from the Indian subcontinent to the atmosphere Sultanate and associated with large quantities of water vapor with tropical characteristics.
In the details, a very humid air mass accompanies the low air rushes to the southeast of the Arabian Peninsula, including the Sultanate, which works, God willing, on rainfall of varying intensity, God willing, in different parts of the northern regions of the Sultanate, and is associated with the occurrence of thunderstorms and hail showers, and it is not excluded Recording large amounts of rain in the northern regions of the Sultanate, in some areas it may exceed 70 mm, which also leads to the formation of torrents, the flow of valleys and reefs, in addition to a rise in the water level in some areas.
Daytime temperatures are lower than their averages for this time of the year by about 10-15 degrees Celsius and are recorded in several parts of the northern governorates of the Sultanate, including the capital, Muscat, at the end of the twenties maximum during the day.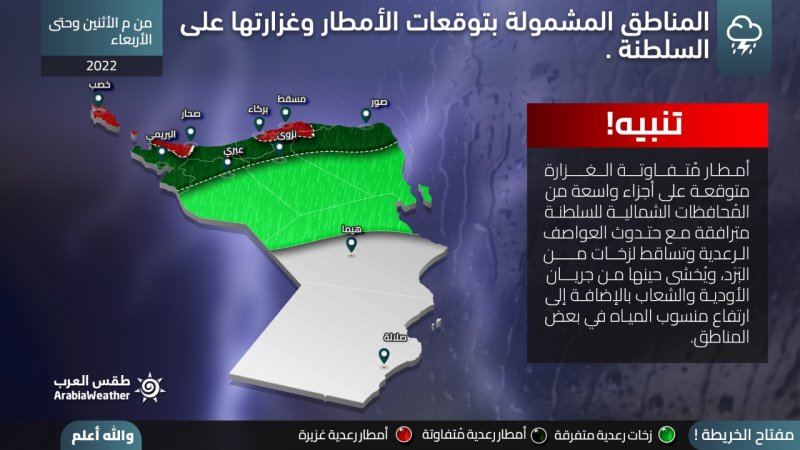 According to the numerical simulation of the atmosphere, it is expected that the amount of rain will decrease in the Sultanate on Wednesday 26-7-2022, so that the rains will be concentrated in the areas of Musandam, North and South Al Batinah and Al Buraimi, with chances of sporadic showers appearing in the rest of the northern governorates.
God knows
This article was written originally in Arabic and is translated using a 3rd party automated service. ArabiaWeather is not responsible for any grammatical errors whatsoever.