Weather of Arabia - The latest weather maps received from global centers and others developed from Arab Weather internally indicate that large parts of the Arab East are expected to be affected by a regional rainy weather that includes many Arab countries, namely: Egypt, Jordan, Palestine, Lebanon and Syria And Iraq, Kuwait, Saudi Arabia, Qatar, Bahrain and Yemen, as of Saturday 3-12-2023, and its influence will gradually expand during the week, God willing.
These weather disturbances come on a regional scale, as a result of expectations of successive Rossby waves rushing into the region following a clear expansion of the polar cell vortex to the south, so that air depressions are expected to rush into the high layers of the atmosphere towards the eastern basin of the Mediterranean Sea and northern Egypt, in conjunction with the blowing of air currents. Warm and humid from subtropical latitudes, which leads to the emergence of unstable weather conditions and a surface response to the Red Sea depression effectively, and it is expected that the weather condition will be at its height and strength within the Kingdom of Saudi Arabia in particular.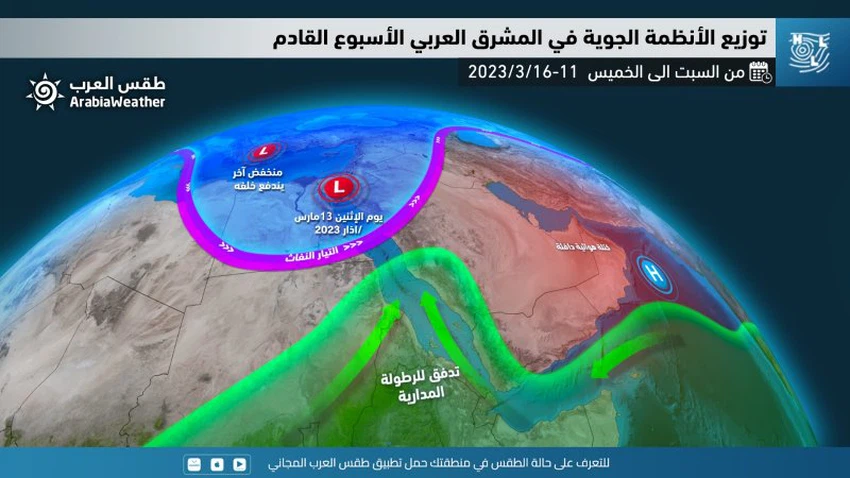 Areas covered by rain early next week
And according to the numerical simulation indicators of the atmosphere, it is expected that the upper depression will erupt in the eastern basin of the Mediterranean Sea at the beginning of next week, so that the spark of the rainy situation will gradually break out on Saturday, starting from the southwestern highlands of Saudi Arabia, God willing, and the impact of this rainy situation will expand on Sunday 13 March 2023 to include large parts of Saudi Arabia and extend to Kuwait and Iraq, and may extend to parts of the Levantine desert.
As for Monday, and with the movement of the upper depression to the east, the chances of rain remain in Kuwait and the south, east and northeast of Saudi Arabia and Iraq, with the possibility of some scattered rain clouds flowing to Qatar and Bahrain.
The rainy situation is renewed on a large scale on Tuesday and Wednesday
And according to the latest indications received by the weather forecast team in "Arab Weather", a new depression is expected to erupt in the eastern basin of the Mediterranean Sea, on Tuesday and Wednesday 14 and 15 March 2023, to pump strong cooling towards the Arabian Peninsula, and a announced short wave of renewal is formed. Widespread rainy weather. Initial indications show that thunderstorms will then cover several parts of Egypt, the Levant, Iraq, Kuwait and Saudi Arabia, in addition to parts of Qatar, Bahrain and Yemen.
God knows.
This article was written originally in Arabic and is translated using a 3rd party automated service. ArabiaWeather is not responsible for any grammatical errors whatsoever.