Weather of Arabia - Specialists in the Arab Regional Weather Center are closely following the latest developments in the tropical condition in the Arabian Sea through satellite images received and what is also called numerical models, which sense the movement of the tropical state in different operating methods, and therefore these models present several scenarios that are not necessarily be similar. And these models, which are operated by high-capacity computers, know the initial state of the atmosphere through meteorological observations, and therefore suffer from simulating and sensing the movement of the orbital state due to the weakness of data and the lack of quality weather and marine observations in water bodies, including the Arabian Sea, in addition to The tropical states are a complex system affected by many atmospheric variables.
And some of the outputs of these computer numerical models indicate that the tropical state will continue to move to the north and northeast during the coming days towards the Pakistani / Indian lands without any direct effects on any Arab country, as a result of the deepening of the subtropical air elevation in the atmosphere of the Arabian Peninsula coinciding with the crossing of a wave The uppermost of these regions polarize the orbital state (Scenario 1). While the outputs of other numerical models indicate that the orbital state moves directly towards the Sultanate of Oman and the Oman Sea; As a result of the stratospheric easterly winds pushing the tropical system to the northwest (Scenario 2). Also, some products indicate that the tropical state is moving towards Yemen, which is the weakest, due to the small number of products that sense this path (Scenario 3).
And specialists in the regional "Arab Weather" center periodically review (around the clock) the outputs and analyzes of weather readings and issue updates if necessary.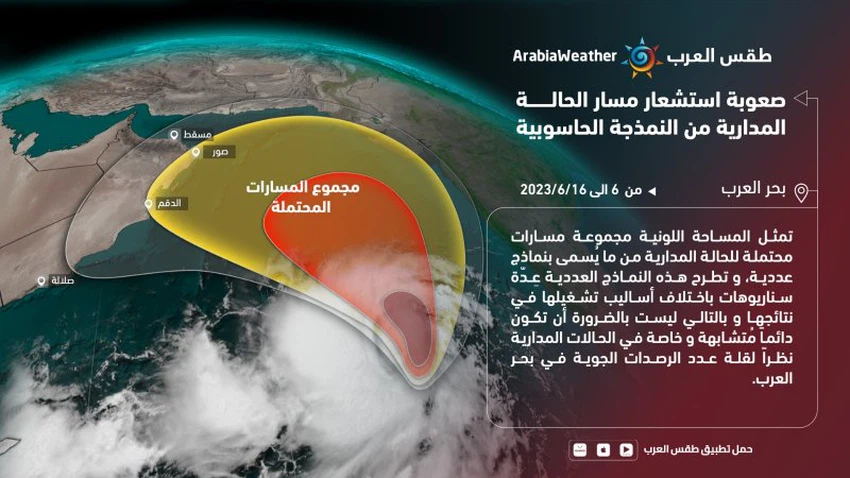 This article was written originally in Arabic and is translated using a 3rd party automated service. ArabiaWeather is not responsible for any grammatical errors whatsoever.