From the operations room of the Arab Weather Center - the latest weather maps received from global centers and others, those developed by Arab weather internally , indicate expectations of a new extension of the Monsoon depression to the northern Arabian Sea early next week, but it is not possible to decide on the possibility of its direct impact on the southern sector of The Arabian Peninsula from now where the time distance is still far.
Weather forecasters at the Arab Weather Center said that the behavior of this air depression is still unknown until the time of preparing this report, as some weather maps put a direct impact on southern Arabia at the beginning of next week, and according to this possibility, a superficial response to thermal depressions occurs effectively, and thus the occurrence of no High stability in the atmosphere, which results in increased chances of thunderstorms in several parts of the southern Arabian Peninsula, while many other weather maps indicate that southern Arabia is not affected by an important weather activity so that the effects are indirect on the The flow of some clouds formed at different heights.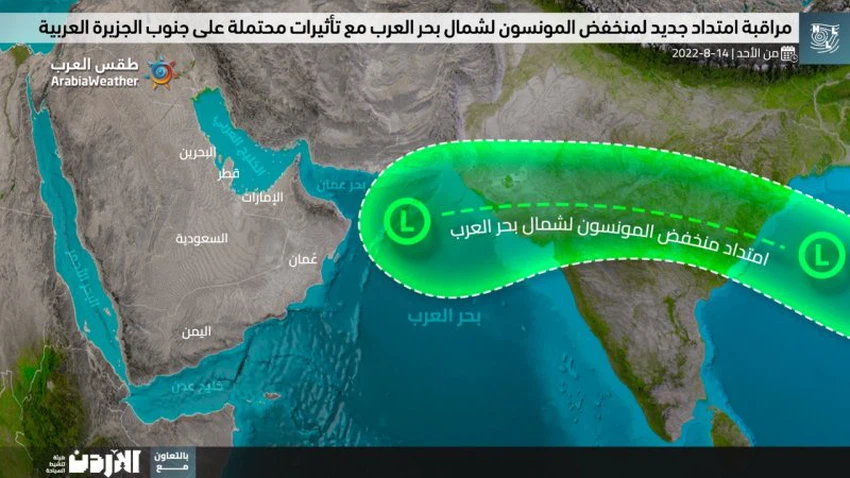 The depth of the depression in the atmosphere of the Arabian Peninsula, similar to what happened in July, is a complex matter that requires the confluence of many factors with each other, which are difficult to sense by computer modeling in this time dimension, which makes some predictions inaccurate and subject to change, and the reason is the fluctuation of data Computer simulations in the lack of accurate sensing of the behavior of jet winds in the upper atmosphere and the consequent location and depth of the subtropical atmospheric high, which may constitute a barrier to the progress of the monsoon grooves / eastern waves to southern Arabia.
Therefore, all of the above is within the context of the latest forecasts of the weather readings issued by the Arab Regional Center for Meteorology and Forecasting, and updates that will highlight more details will be released incrementally as needed, God willing.
This article was written originally in Arabic and is translated using a 3rd party automated service. ArabiaWeather is not responsible for any grammatical errors whatsoever.