Weather of Arabia - Today we recall together the memory of the massive sandstorm that formed to the north-east of Syria from September 6-13, 2015, AD, and extended to cast a shadow over several days over most parts of the Levant, including Jordan, Palestine and the far north of the Kingdom of Saudi Arabia. The countries of the region have a decrease in the range of horizontal visibility that has reached the 300-meter limit!
How was the sandstorm formed?
Arab weather attributes the cause of this sand storm to the deepening of the atmospheric thermal depression centered to the east of Syria, accompanied by a significant rise in temperatures, which led to a significant intensification of wind speeds that exceeded 60 km / h, which caused the formation of a massive dust wave, which moved slowly towards south and southwest to cover most parts of the Levant.
The area of the sandstorm is approximately 400,000 square kilometers
The image below, taken by NASA's "Terra" satellite, shows the dust extending over an area of approximately 400,000, covering large parts of Syria, Jordan, Lebanon, Palestine and Sinai, and parts of northern Saudi Arabia and southern Turkey, and over areas A wide sea from the eastern basin of the Mediterranean Sea, all the way to the island of Cyprus.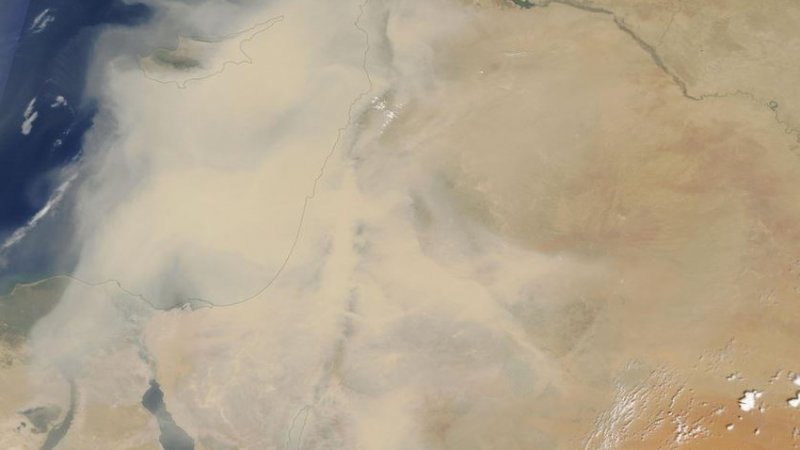 The dust wave caused the death of 3 women in Lebanon and 750 cases of suffocation
The strong dust wave that hit separate areas of Lebanon caused the death of 3 women and the injury of 750 cases of suffocation, according to the Lebanese Ministry of Health, while the residents described the sandstorm as the strongest in decades.
The sky of Syria turns dark red
In Syria, a documented video clip from Hama summarized the intensity of dust that covered the city's sky and blocked it from sunlight, and the city's atmosphere appears through the video, which is dark red due to the density of dust.
A wave of dust affected Tarif and Qurayyat in northern Saudi Arabia
The sandstorm also hit Qurayyat and Turaif, north of Saudi Arabia, where a dense cloud of dust covered the air, which significantly reduced the horizontal visibility.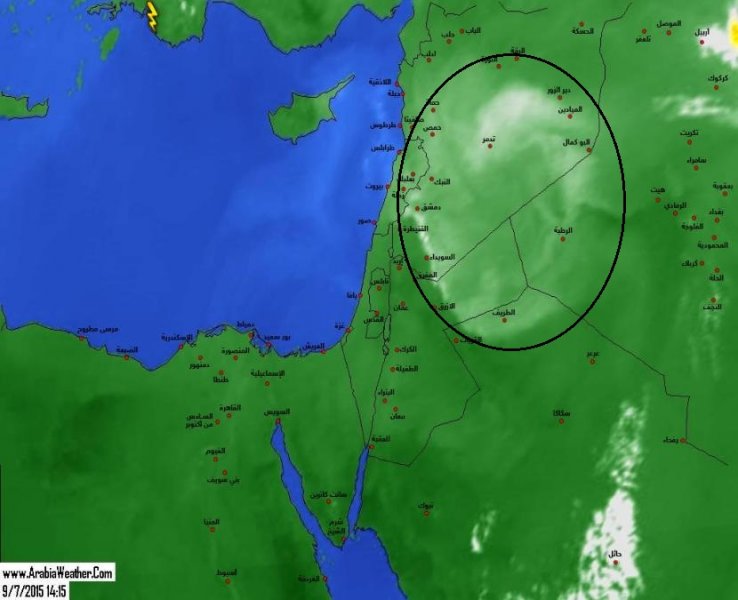 Damage in multiple sectors
On the health front, the "dust wave" affected thousands of people with respiratory and eye diseases, and the occurrence of serious health complications in many of them, which led to the death of a few people, according to official sources in the mentioned countries.
It has actually affected public life in the aforementioned areas, as the low horizontal visibility hampered many flights at the official and important airports in the countries of the region, all the way to Larnaca Airport in Cyprus, some of which were postponed and others diverted.
This article was written originally in Arabic and is translated using a 3rd party automated service. ArabiaWeather is not responsible for any grammatical errors whatsoever.