Arab weather - The outputs of the analyzes and computer simulation data for weather forecasts indicate an anticipation of a distinct period of air activity, starting from Thursday and for a period not short of time on the Maghreb, especially Tunisia and Algeria, following the rush of cold air masses from northern Europe towards western Europe, and these last areas are considered to be the origin The most important for effective atmospheric depressions in the western basin of the Mediterranean Sea.
Complete stability in the atmosphere in the Levant
A series of depressions cast a shadow over the Maghreb countries
In the details, it is expected that an air system serving the western European continent, the western Mediterranean and the Maghreb countries will dominate during the next two weeks, so that the Azores air rise will remain extending north to the northern Atlantic Ocean, pushing cold air masses south towards western Europe and then the western Mediterranean, and warm waters work The Mediterranean Sea is due to the intensification of depressions and the pumping of quantities of moisture, which increases its effectiveness.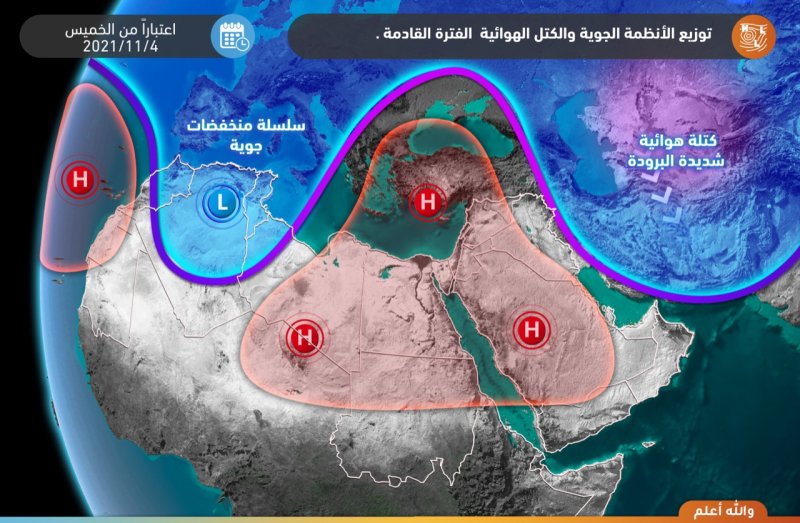 Heavy thunderstorms are expected in northern Tunisia, Morocco and Algeria, with an opportunity to form torrents in some of these areas and snowfall on the Atlas heights in Morocco and the mountain peaks in northern Algeria, and it is believed that these depressions will be strong enough to bring excellent amounts of rain, making this period a promising period. .
This is offset by the flow of warm currents to the western parts of the Arab Mashreq, including the Levant and Egypt, in addition to Libya, so that a completely dry and stable atmosphere prevails and temperatures higher than their normal rates most of the time, so that high air pressure dominates starting from the eastern Mediterranean through the south and east of the European continent, Where the regions of the Maghreb are scientifically known as the "opposite" regions, that is, the weather condition is "inversely related" to the weather in the Levant most of the time.
If you are browsing from your phone, you can download the Arab Weather application, which provides accurate weather forecasts for thousands of regions in the Arab world, click here.
This article was written originally in Arabic and is translated using a 3rd party automated service. ArabiaWeather is not responsible for any grammatical errors whatsoever.