Arab Weather - Satellite images indicate the presence of bundles of tropical thunder clouds in the east of the Arabian Sea, and the cadre of weather forecasts in Arab weather shows its expected impact on the atmosphere of the Arabian Peninsula during the coming hours.
Several reasons limit the development or impulsion of tropical turbulence in the Arabian Peninsula
Monsoon winds are the main reasons!
In details, the temperature of the waters of the eastern Arabian Sea is currently about 28 degrees Celsius, which is a suitable water temperature for the formation of tropical disturbances, since the temperature of the oceans and seas is considered a fuel and an energy source for such cases, in addition to the fact that we are on the verge of October, which is the period of the activity of the Arabian Sea statistically. And with the continued activity of shear winds over the waters of the Arabian Sea, which limits the development of tropical turbulence in the coming days, or even its approach to the atmosphere of the Arabian Peninsula.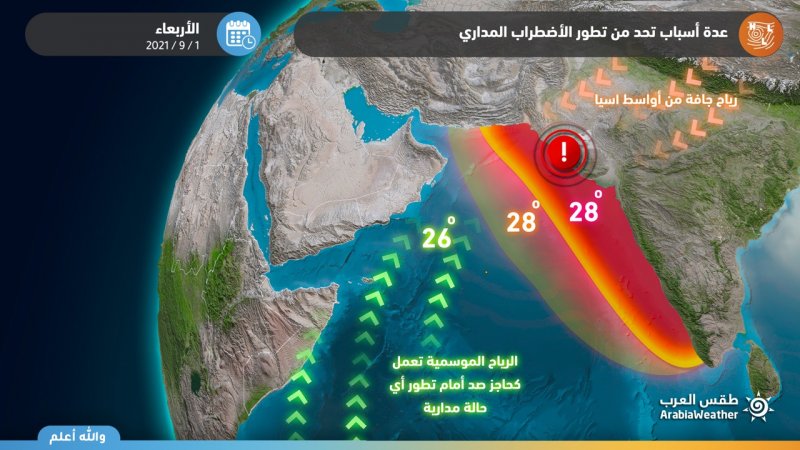 Not only that, but the concentration of the high altitude in the east of the Arabian Peninsula also acts as a barrier to repel tropical states or eastern waves and prevents them from penetrating into the land, and contributes to the flow of dry northern winds that weaken it and gradually fade it, God willing.
Link to satellite images, animated clouds, and lightning monitor
Scattered showers of rain over some coastal areas
Indirect effects on the Arabian Peninsula
As a result of the air turbulence, it is expected that clouds at different heights will flow towards the atmosphere of the Arabian Peninsula as it moves in the western direction of the Arabian Sea, but the low-altitude clouds dry out most of them as they pass over the cold flat Arabian Sea.
Nevertheless, some clouds are expected to arrive at different heights during the weekend on the coastal areas of the Sultanate of Oman, which may lead to scattered showers of rain on parts of the southeastern and central coasts, and the continuation of the condensation of the autumn clouds on the coasts of Dhofar, of course, and the drizzle is not ruled out. In some inland areas of the Sultanate, God willing.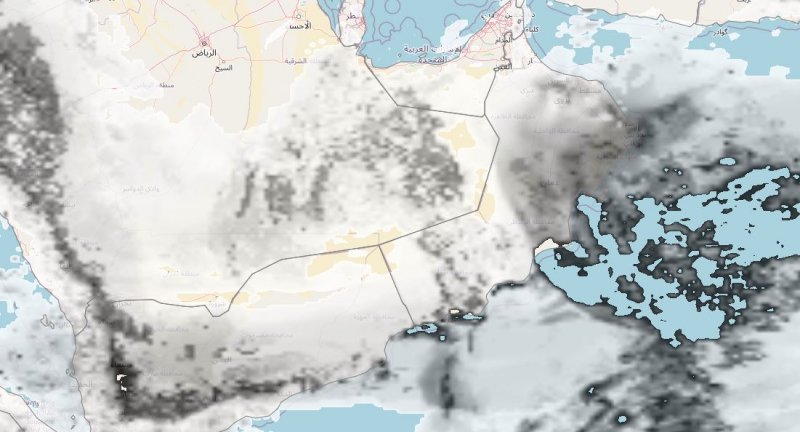 It is worth noting that numerical weather models find it very difficult to monitor, predict and simulate tropical conditions, due to the large number of atmospheric variables surrounding them, in addition to the small number of meteorological observations.
This article was written originally in Arabic and is translated using a 3rd party automated service. ArabiaWeather is not responsible for any grammatical errors whatsoever.