Arab weather - The weather forecast staff in Arab weather indicates the increasing impact of the air groove on the atmosphere of the Sultanate on Tuesday, so that winter weather prevails with distinction in several regions of the north of the Sultanate, and the effects of this groove are largely clear at night, as the weather is relatively cold in most regions In the northern regions, it is extremely cold in the mountain peaks, such as Qom Jabal Shams and Jabal Al-Kour.
Minimum temperatures approach zero degrees Celsius over the tops of Mount Sun
A chance of snow rain on Jebel Shams on Tuesday night until Wednesday morning
In the details, as the Sultanate is increasingly affected by the air groove, showers of rain and hail are expected in the north of the Sultanate, and it is possible that some of the rain showers are mixed with snow over the peaks of Jebel Shams, during the height of the impact and deepening of the winter groove, i.e. with the hours of Tuesday night/Wednesday until the morning hours of Wednesday.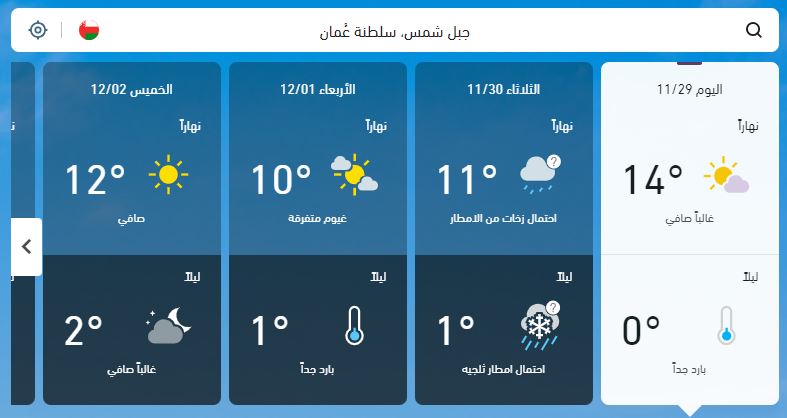 Arab weather warns about this from lowering temperatures to winter levels, taking into account the return to wearing winter clothes due to the cold weather, taking into account the safe use of heating methods, and being aware of the dangers of frost formation over mountain peaks.
It is worth noting that rain often begins in the form of snow inside the clouds, and as soon as it reaches a warm layer of the air, these snows melt and turn into rain.
For a better read.. Download the Arabia Weather app, from here
This article was written originally in Arabic and is translated using a 3rd party automated service. ArabiaWeather is not responsible for any grammatical errors whatsoever.