Weather of the Arabs - It is expected that Egypt will be affected again by a low air extension centered over the Syrian territories and attached to a cold air front behind which cold polar winds of Siberian origins rush, God willing, and hence the details of the weather.
The rain is concentrated in the morning hours and Monday morning
Cold polar winds of Siberian origins rushing behind the depression
In the details, the northern parts of Egypt cross with the hours after midnight on Tuesday/Wednesday a cold air front, so that the weather gradually turns into very cold, stormy and cloudy with showers of rain, God willing, in several parts of the north of the country, and the rains begin to fall on the coast. North and North Delta, to extend with dawn and morning hours to all areas of the Delta, Lower Egypt, North Sinai and Matrouh, all the way to Greater Cairo. It is also expected that morning precipitation will be in the form of hail showers sometimes and in some areas, provided that the chances of rain extend with noon and afternoon hours to parts of the north Upper Egypt, at the same time, is declining in the rest of the regions.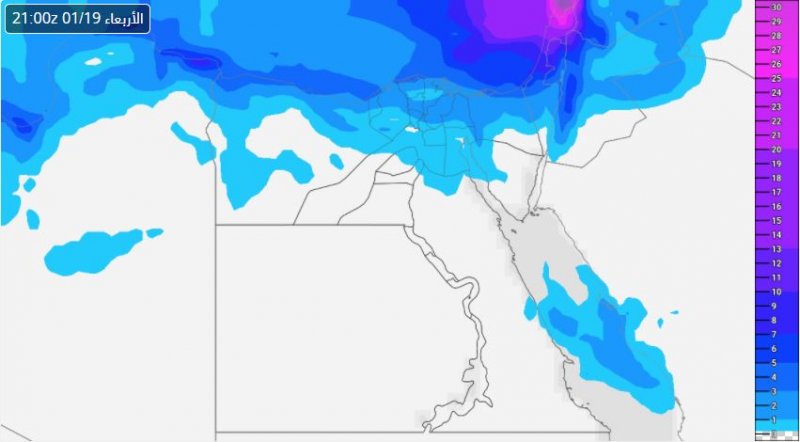 The winds are north to northwest, moderate in speed, sometimes active and raise dust and dust in some northern areas, especially on desert roads, with warnings of a deterioration in the horizontal visibility, and with the remarkable activity in wind speed, the Mediterranean becomes turbulent over the northern coastal areas, and the height of the waves ranges Between (3-4) meters.
And in the evening and night hours, the chances of precipitation weaken in most areas, while it remains contained in parts of the eastern coast and North Sinai, but this coincides with a sharp and accelerating drop in night temperatures and quickly become below 8 degrees Celsius with midnight in several parts of northern Sinai. country including Cairo.
This article was written originally in Arabic and is translated using a 3rd party automated service. ArabiaWeather is not responsible for any grammatical errors whatsoever.