Arab Weather - In 2018, the Arab Regional Weather Center devised an index to measure the severity and effectiveness of depressions, consisting of five degrees (the highest is the severity of the fifth degree and the weakest is the first degree); With the aim of making it easier for citizens to know the degree of strength and impact of the depression and the way to deal with the weather condition, the higher the severity of the depression, more precautions must be taken, and thus the classification also helps the concerned authorities in the decision-making process and declaring a state of emergency according to the severity and degree of the depression and its effects on the atmosphere.
Usually, depressions of the first three degrees are repeated, but when we reach the fourth degree, it becomes less frequent, so when a fourth-degree depression is classified, we ask many questions about the meaning of the fourth degree, and we will explain here what it means to classify a fourth-degree depression. ?
What does the classification of a fourth-degree depression mean?
The fourth degree includes "highly effective" weather depressions, which are associated with effects closer to the effects of a storm, bringing strong winds and more heavy rains. Therefore, they are characterized by their high severity and their clear effects on the manifestations of public life and may lead to their obstruction.
The Arab weather index for the classification of weather depressions depends on several factors that accompany the weather depression, which are:
The total amount of precipitation in the areas affected by the depression.
Wind speed and gusts during the depression period.
Expected temperatures during the depression and how cold they are.
The number of areas that the depression will cover.
Duration and impact period from the beginning of the depression until its end.
Chances of snowfall and accumulation.
Because of the multiplicity of factors, specialists in Arab weather discuss all forecasts carefully, until the degree of depression is approved that is commensurate with the severity of the effects.
The fourth-degree depressions do not necessarily have to be snowy on a large scale, as the depression can rise to the fourth degree in intensity due to the expected large amounts of rain, and then it is called a fourth-degree rainy depression.
The following is a comparison between the fourth-degree depression and the rest of the degrees: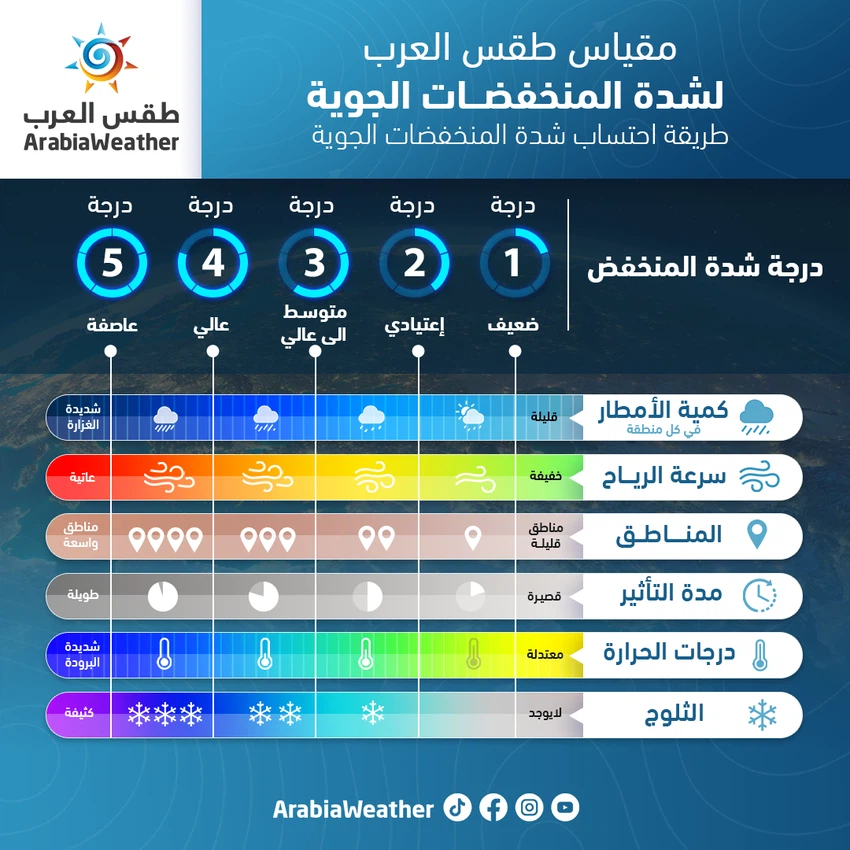 You may also be interested in: Strong weather depressions (fourth degree) that Jordan witnessed between 2019-2022
This article was written originally in Arabic and is translated using a 3rd party automated service. ArabiaWeather is not responsible for any grammatical errors whatsoever.