Arab Weather - Social media circulated many videos and photos about snowfall in the state of M'sila. In this report, Arab Weather explains the fact that snow fell in the state of M'sila, north of Algerian territory.
What is the reality of snowfall in the state of M'sila?
The weather forecast staff in "Arab Weather" denies the rumors from multiple sources spread and circulated about the fall of the thuja in the Wilayat of M'sila. The northern interior regions of Algeria have experienced unstable weather conditions for several days, and they form such clouds as a result of convection and moist air currents rising strongly to the upper layers of the atmosphere.
Cold grains are formed when the temperature in the upper layers decreases, where the water droplets freeze, but they do not fall due to the rising air currents that push them up. Irregular Freezing Between the rapid freezing in the cold layer, and eventually the hailstones falling when they reach the size that they can withstand the rising air currents
Is it normal for hail to fall in summer?
Despite the expectations that assume seeing hail in the cold winter months, it is more common in spring, summer and autumn, especially in hot and humid areas, where there are suitable weather conditions for the formation of cumulus clouds that produce thunderstorms and hail, and hailstorms often form during the day Between mid-afternoon.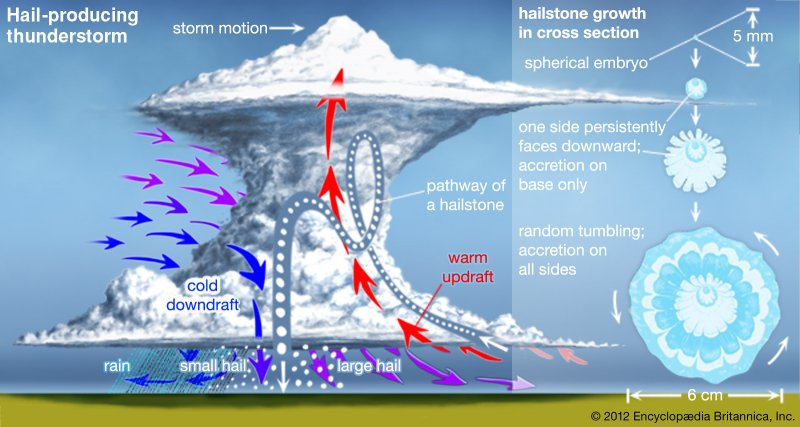 As for the size of the hailstones, it is directly related to the strength of the thunderstorm. The stronger the storm, the longer the hail will remain inside the cumulus cloud, and the larger its size. Not only do they have one type of hail, most thunderstorms feature at least six different sizes of hail.
This article was written originally in Arabic and is translated using a 3rd party automated service. ArabiaWeather is not responsible for any grammatical errors whatsoever.