Arab Weather - All regions of the Sultanate of Oman and the Emirates live under stable conditions, where there has been no rainfall in all regions since the impact of Hurricane Shaheen, with expectations that the period of stability will continue for at least the next week.
What is the reason for the lack of rainfall in all regions of the Sultanate of Oman and the Emirates?
Dry winds resulting from high altitude are the main causes
In details, the semi-tropical air altitude intensified over the eastern parts of the Arabian Peninsula, which resulted in the rush of dry northwestern air currents in the various layers of the atmosphere, and due to the fact that the currents have dry characteristics, the effective moisture was absent (which is between 1.5 km to 5 km from the surface of the earth). ) and concentrated in the layers of the atmosphere far from us, as it is not enough to build strong clouds with vertical extension and which are responsible after God's will for the formation of rain, which led to the area remaining under the dry range, and consequently the opportunities for local formations declined from the mountainous heights, including the general heights of the Al-Hajar Mountains and the mountains eastern part of the Emirates.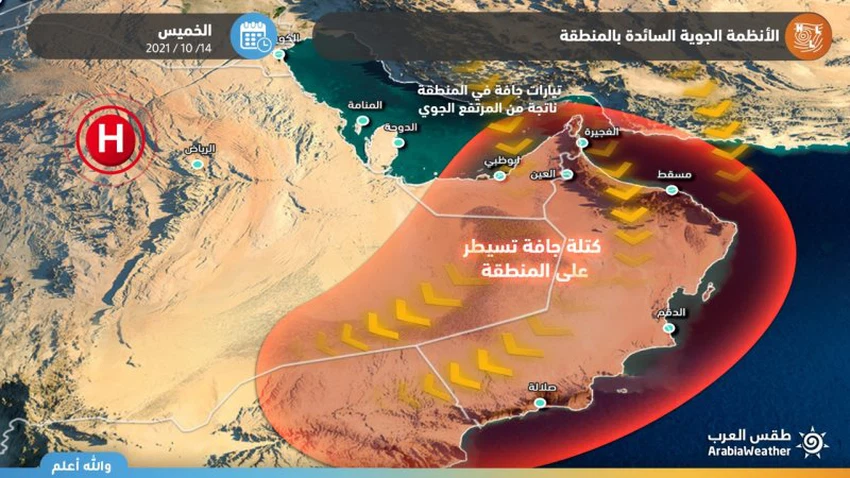 The other reason for the complete stability in the atmosphere is the low surface temperatures, so that they became insufficient for the heating process required to break negative energy and form rain cells, and negative energy is the amount of energy that prevents the expulsion of air from the surface to reach the level of convection.
The solid air rise plays the most important role in repelling the humid waves, whether from the south coming from the Arabian Sea or from the north coming from the Mediterranean and the Levant, and the location of the jet stream north of the Arabian Peninsula plays a prominent role in repelling the less hot blocks in the higher layers coming from the north and thus remaining The high layers are not prepared for the development of clouds and cases of atmospheric instability, so that this air system makes the mountains of the Sultanate and the Emirates within the scope of an air-stable region and far from any air activity.
Weather forecasts and computerized numerical models indicate the continuation of stable weather over the region for at least the next week, since the air rise will remain in control of the region and build a center over the Arabian Peninsula, pushing the moisture of the Arabian Sea away from the region's atmosphere, while some indicators indicate the approach of a cold upper basin. From the region during the last third of the month, chances of rain may return on some mountainous heights.
This article was written originally in Arabic and is translated using a 3rd party automated service. ArabiaWeather is not responsible for any grammatical errors whatsoever.