Arab Weather - Sinan Khalaf - We monitor in the "Arab Regional Weather Center" the latest developments and developments of the dust wave that started from Syria and Iraq and rushed towards the northern borders and then the Hafr Al-Batin region, and is still heading towards the eastern and central parts of the Kingdom, including the capital, Riyadh.
When is the heavy dust wave expected to reach Riyadh?
The latest outputs of the computer simulation systems for wind movement, in addition to what is being monitored now through the latest satellite images, indicate a dust wave that will enter the atmosphere of the capital city of Riyadh with the evening and night of Monday/Tuesday, in the form of a wave of transmitted dust and dirt plankton, mural of character and high density, eroding the range of vision. Horizontal range of 500 and maybe less.
Watch the movement of clouds and dust through satellites from here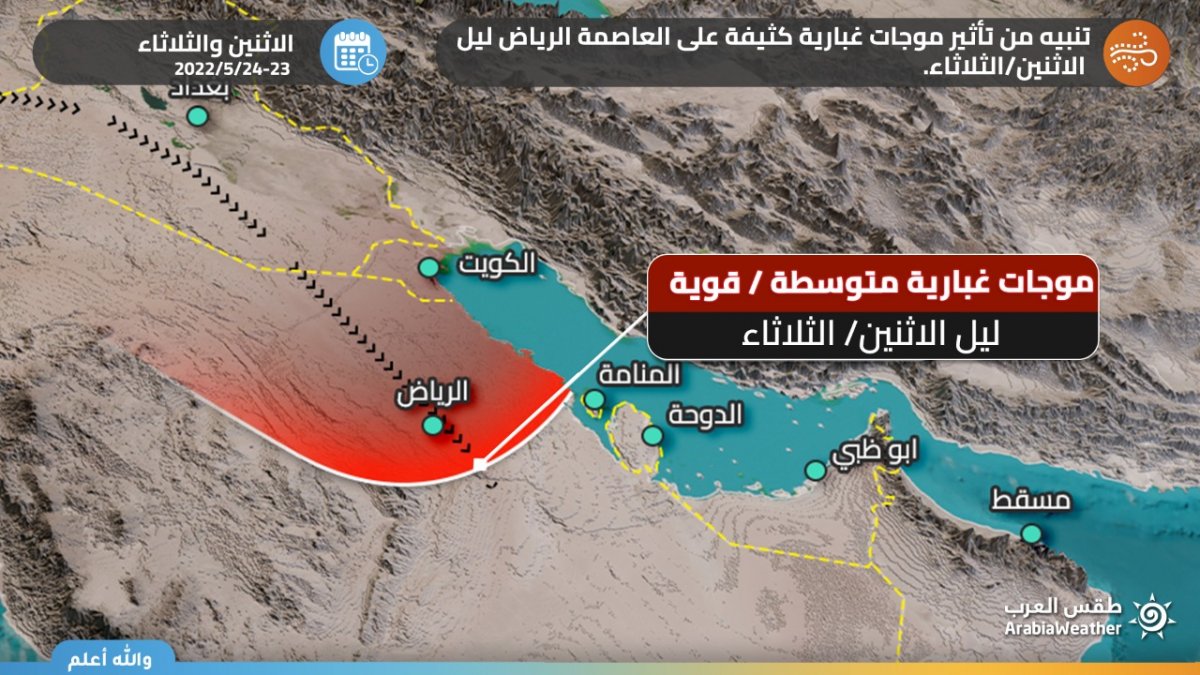 Expectations indicate the possibility of the continued impact of the dust wave and dust plankton on the city of Riyadh throughout the night of Monday and the day on Tuesday and perhaps on Wednesday, which requires caution and caution.
Protect your business from climate change
Through the advanced "Weather Watch" software, you can obtain services that help reduce losses resulting from weather conditions by providing weather information and early warning for sectors that are greatly affected by weather conditions through the following link ( click here )
These weather conditions require attention from:
The risk of a decrease in the range of horizontal visibility due to dust and dust stirred up
Risk of additives in patients with respiratory system and eyes due to dust
This article was written originally in Arabic and is translated using a 3rd party automated service. ArabiaWeather is not responsible for any grammatical errors whatsoever.