Weather of Arabia - The Jordan River is famous for its distinctive geography and location associated with ancient historical events. It also runs in the Great Rift Valley, southwest Asia, and flows in a geological depression, making it the lowest river in the world.
Jordan has many unique features, choose your destination from here and embark on an enjoyable journey throughout Jordan
What is the Jordan River?
The Jordan River is the most important river in the Hashemite Kingdom of Jordan, which was named after Jordan. The Jordan River passes through the Levant, and is formed as a result of the confluence of three tributaries: Banias from Syria, Al-Land from northern Palestine, and Baraghit and Al-Hasbani from Syria. Lebanon, the upper Jordan River, which flows into Lake Tiberias, is formed.
When it exits Lake Tiberias, it forms the Lower Jordan River, and it also pours into it the tributaries of the Yarmouk River, the Zarqa River, the Kafrnaja Valley and Goliath.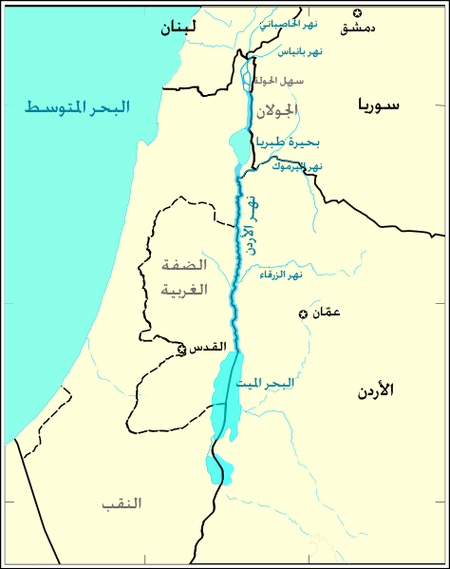 Where does the Jordan River originate and where does it flow?
The Jordan River originates from the slopes of Mount Hermon (Mount Hermon), which lies between Syria and Lebanon, and flows south towards northern Palestine to Lake Tiberias, then exits from it and travels between Palestine and Jordan; Palestine is located on the western side and Jordan on the eastern side, and eventually flows into the Dead Sea, where the lowest point on earth is located, as the surface of the Dead Sea reaches (430 meters) below sea level.
The Jordan River is more than 360 km long, but because its course meanders, the actual distance between its source and the Dead Sea is less than (200 km).
Travel to Jordan and enjoy a tour of its most beautiful places, choose your destination from here
The historical significance of the Jordan River
The name of the Jordan River was mentioned in the texts of the heavenly books of Judaism, Christianity, and Islam in word and in sign, which mentioned its relationship to some prophets, such as Moses and Jesus, peace be upon them, and its waters are considered sacred by all Christian denominations, where Christ was baptized in the river, besides that, four were buried One of the companions of the Messenger of God Muhammad - may God bless him and grant him peace - on the eastern banks of it.
This article was written originally in Arabic and is translated using a 3rd party automated service. ArabiaWeather is not responsible for any grammatical errors whatsoever.