Arab Weather - Muhammad Aouina - Perhaps it comes to your mind when you see satellite images The reason for hurricanes rotating permanently counter-clockwise in the northern hemisphere, the remarkable thing is that this movement occurs with the clock in the southern hemisphere, so what is the reason behind that?
Coriolis force effect
The rotation of the Earth affects the direction of the winds, when the earth rotates on its axis, the winds cannot move in a straight line towards the north and south of the equator, the Coriolis force arises and under its influence the winds deflect to the right in the northern hemisphere and to the left in the southern hemisphere, and is referred to as It's in the name of Ferrell's Law.
This deviation is a major factor in explaining why winds blow clockwise around low pressure and clockwise around high pressure in the northern hemisphere and vice versa in the southern hemisphere, without the Coriolis effect, air would simply flow directly from high pressure areas to low pressure areas. .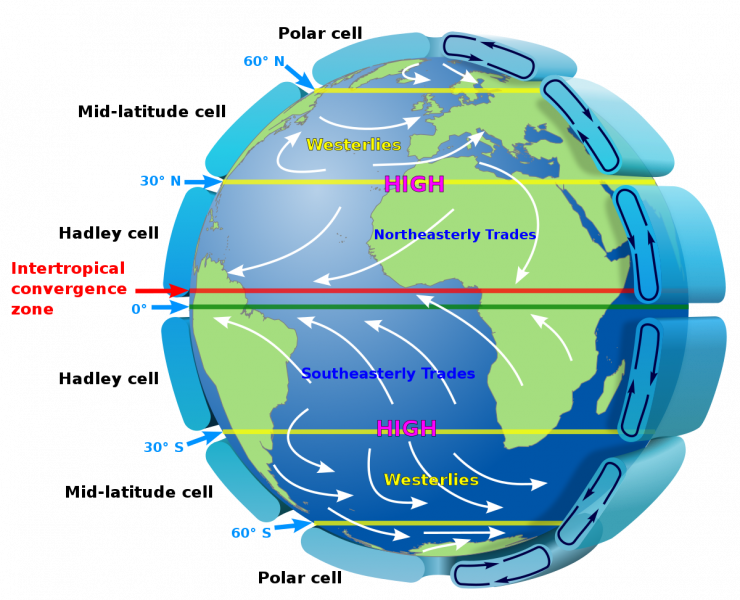 The Coriolis effect does not affect wind speed, but only wind direction, as the Coriolis effect affects objects on a large scale and generally does not have a large effect on small-sized objects on the surface of the Earth, although hurricanes are small in size compared to the globe as a whole, except Hurricanes need the Coriolis effect to help develop the circular motion of their cycles.
ArabiaWeather Company is not responsible for the material displayed or published in ArabiaWeather Blogs, and bloggers are therefore fully responsible for their writings.

ArabiaWeather Company shall not be responsible for any republication. The materials published in the "Arabia Weather Blogs" in the various media, which puts anyone who publishes these blogs in the name of the Arabia Weather or quoting the Arabia Weather under liability and legal accountability.
This article was written originally in Arabic and is translated using a 3rd party automated service. ArabiaWeather is not responsible for any grammatical errors whatsoever.