Arab weather - despite the atmosphere closest to spring that witnessed in large parts of the European continent during many days of March, when the air high at that time extended its control over large parts of them, and even temperatures recorded high values compared to their normal rates, especially in the western and northern parts of it. . The output of computer weather forecasts to simulate the air mass indicates that large parts of the European continent are preparing during the coming days to face a severe cold wave and very low temperatures when compared with the atmosphere that is supposed to prevail during this time of the year.
According to the computer processing outputs through the Badr system, it indicates expectations of the flow of cold air of polar origin during the coming days for large parts of the north, west, central and southern parts of the old continent and all the way to the northwestern regions of Africa such as Algeria and Tunisia, so that temperatures in Europe will drop below their usual rates for this time With more than 10 degrees Celsius of the year, snow is expected in many areas.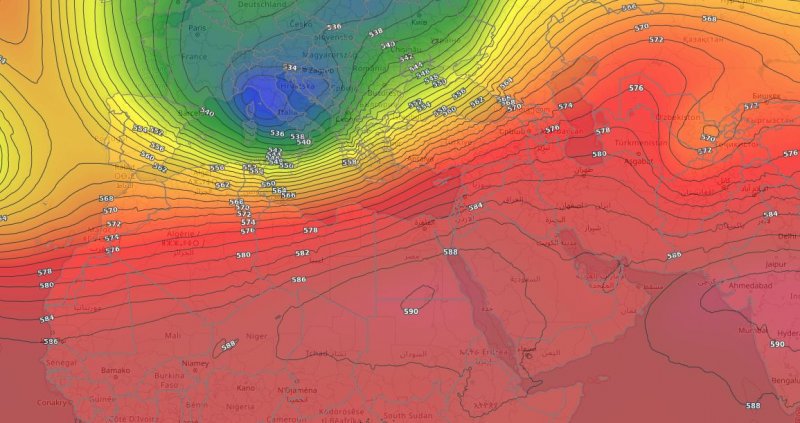 This explains expectations of rising temperatures in large parts of the Arab Mashreq, so that the flow of cold upper basins from the European continent to northwest Africa leads to making the Middle East regions a thermal coverage area, so that the high-pressure air masses over the African Sahara respond to form an upper spur ( Upper high extension) pushes air currents that are warmer than usual in the upper and middle layers of the atmosphere towards the eastern Mediterranean, so the change occurs in the upper layers of the atmosphere and is reflected successively on the lower layers as part of the atmospheric dynamics.
Numerical models of the movements of air masses, with expectations, show a convergence between the flow of very cold and polar winds of northward origin with warm air coming from African lands in several parts of the European continent, especially southern ones. This convergence between the two air systems leads to the emergence of high instability in the atmosphere. Atmospheric and therefore strong air strikes in those areas, accompanied by heavy rains sometimes and thunderstorms and the falling of dense grains of hail sometimes in large sizes.
This article was written originally in Arabic and is translated using a 3rd party automated service. ArabiaWeather is not responsible for any grammatical errors whatsoever.