ArabiaWeather - In the era of rapid technological development in which we live, the world of transportation is witnessing revolutionary transformations, and among these transformations the flying experience clearly stands out as an interesting alternative to our accustomed to taking traditional taxis, and flying appears as an option that combines speed and comfort, which opens a new horizon for improving the travel experience. Daily.
Modern technology and the emergence of air taxis provide the opportunity to explore new areas in the world of transportation. These aircraft rely on vertical and horizontal flight, which reduces congestion and provides an efficient means of transportation in large cities. Passengers can benefit from the flexibility of this service, as they can reach... Reach difficult places faster and more efficiently.
Air taxi planes in the skies of New York
Air taxis conducted a test flight in New York City at the initiative of the Big Apple, and Mayor Eric Adams is seeking to establish an electric helicopter landing pad (eVTOL) downtown, but the Federal Aviation Administration has not yet approved the use of that technology for passenger flights.
Joby Aviation and Volocopter, which specialize in making electric aerial vehicles, carried out test flights at the Midtown Manhattan Helipad (DMH) in New York over the weekend, and Adams aims to use this airstrip as a launching point for eVTOL aircraft, and sees the construction of the helipad Located in midtown Manhattan, it will be the first of its kind globally. This project also includes dedicated infrastructure to support the operation of electric vehicles, contributing to the promotion of sustainable transportation and local deliveries in New York.
Previously, most flights from DMH were carried out by traditional helicopters, which caused environmental disturbance and noise among New Yorkers. Adams hopes that adopting eVTOL technology at DMH will be a solution to this problem, stressing that the goal of this project is to enhance sustainability and improve the quality of life for city residents.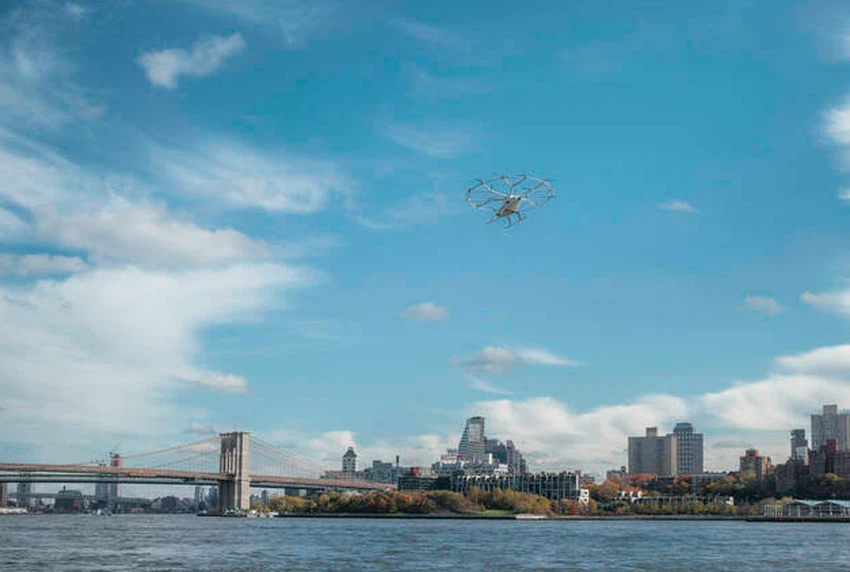 New York's ambitions toward a sustainable transportation hub
The helipad on New York City's East River Pier occupies a prominent place in the shift of urban transportation towards electric technology. At the initiative of the Big Apple, Mayor Eric Adams seeks to establish an electric helicopter landing pad (eVTOL) in the center of the city, and in the context of supporting the distribution of maritime freight, he aspires to Adams also called for "taking trucks off the road and making our streets safer" by shifting freight operations to the city's waterways.
Joby Aviation and Volocopter have had test flights at the Manhattan helipad, a first for New York City, and Adams aims to achieve a significant reduction in the city's carbon emissions by 2030, with the use of eVTOLs a key part of this sustainable vision.
Despite the ambitions, things remain uncertain. For example, these air taxi flights are the first in New York and come as part of an attempt to transform urban transportation. With Joby focused on making New York one of its main operating locations, commercial flights are not expected to begin. Until 2025.
On the other hand, Volocopter has provided a test flight using a 2X aircraft, but the German company must wait to obtain FAA and EASA certifications for the aircraft by 2024. While the two companies continue experiments, the future of eVTOL flights in New York remains to be seen.
Also know:
Mail delivered by solar-powered boat
Recycling electric car batteries...a new and effective method
---
Sources:
This article was written originally in Arabic and is translated using a 3rd party automated service. ArabiaWeather is not responsible for any grammatical errors whatsoever.