Weather of Arabia - Airplanes can travel across the world for thousands of kilometers, as planes travel across the sky almost everywhere and at all times, but if you were to open a direct map of global air traffic, and you passed the continent of Asia, you will notice that there is a vast area on land where you will not see In the presence of any plane, all the planes of the world avoid this huge area and go on their way to fly around it .
Tibet.. the area where the sky is almost devoid of planes
The Tibetan plateau ( Tibetan plateau ) is one of the largest wastelands in the world after Antarctica and northern Greenland, and is the least hospitable and least densely populated place for humans in the entire world.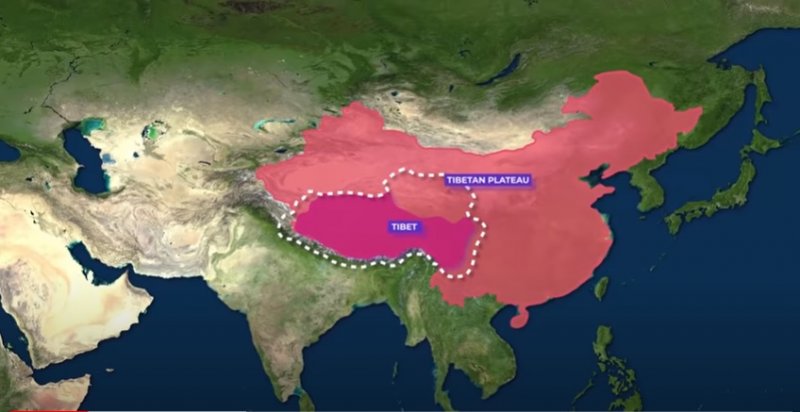 The area of ​​the Tibetan plateau is five times larger than France but has a population of just over 14 million people in the seven countries in which it spans.
Very few people live there because the average height of the plateau is more than 4,500 meters which makes the Tibetan Plateau the highest geographical area in the world, and it has deservedly earned the title of "Roof of the World".
The Tibetan Plateau was one of the world's biggest obstacles to aviation for decades, and the first large-scale attempt to fly over the plateau was during World War II when the then Allies needed to transport air supplies to China, but because they were flying over remote mountains, and due to the height of the Tibetan plateau, faced Pilots are extremely turbulent, with winds of up to 320 kilometers per hour, and temperatures cold enough to freeze fuel.
With weather events that were difficult to predict, and no emergency airports to turn to in the event of an accident, this 42-month flight path saw 594 planes crash and 1,659 men missing in the mountains.
Fortunately for today's modern aircraft, the Tibetan plateau was gradually opened up in the decades following World War II, the first airport was built in China's Tibet in 1956, and the modern airport was built in the Tibetan capital, Lhasa, a decade later, in 1965.
This article was written originally in Arabic and is translated using a 3rd party automated service. ArabiaWeather is not responsible for any grammatical errors whatsoever.