Weather of Arabia - Several Algerian states acquired their white color after snow covered their heights, and activists on the communication sites transmitted many pictures and videos of snow that adorned the parts of the country, and delighted many after a long absence, while some suffered the suffering and consequences of closing some roads due to the accumulation of snow.
Heavy rain and snowfall after a rain break
During the current winter, Algeria suffered from a lack of precipitation and the absence of major weather conditions, but since Wednesday 1/18/2023 Algeria has been exposed to an air depression associated with a polar air mass of very cold origin that rushed across the European continent and deepened on Thursday 1/19/2023, and continued Its effects for several consecutive days, the air mass of polar origin and accompanying the depression caused heavy rains in various regions of the country, accompanied by heavy hail showers, which led to the formation of torrents and the flow of valleys and reefs.
Snow also fell in the various mountainous heights in northern and central Algeria, and with the deepening of the very cold air mass, the level of snowfall decreased to less than 500 meters, and thus included most of the country's regions. The snow was sometimes heavy and accompanied by the occurrence of thunder in some areas, which led to accelerated accumulations of snow. , with different thicknesses, and the accumulation of snow increased with increasing height above sea level.
Snow continued to fall in most of the eastern Algerian states, on Saturday evening and until yesterday, Sunday, to create beautiful pictures in many mountainous and even coastal areas, after snow returned to the coasts of the city of Annaba after a break of more than 15 years.
While the white snow falling on Skikda mixed with the blue of sea water on the Wadi al-Zuhur beach on the western side of the wilaya's territory, in a scene that rarely happens.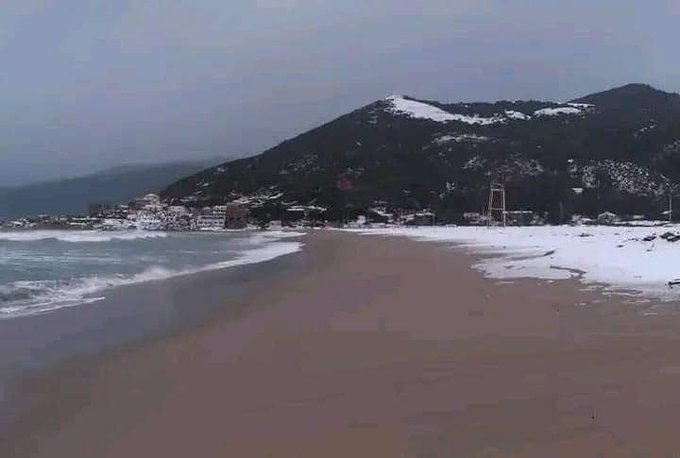 This is part of the work of the special teams to remove the accumulated snow and open the roads:
This article was written originally in Arabic and is translated using a 3rd party automated service. ArabiaWeather is not responsible for any grammatical errors whatsoever.