Weather of Arabia - Countries in Southeast Asia are facing the worst heat wave during the month of April in the history of Asia, whose effects extend to more than ten Asian countries, until Thailand recorded on 4-14-2023 the highest temperature in its history at 45.4 degrees Celsius, breaking the highest Temperature ever recorded in the shade in 2016 in Mae Hong Son Province in the north: 44.6 degrees.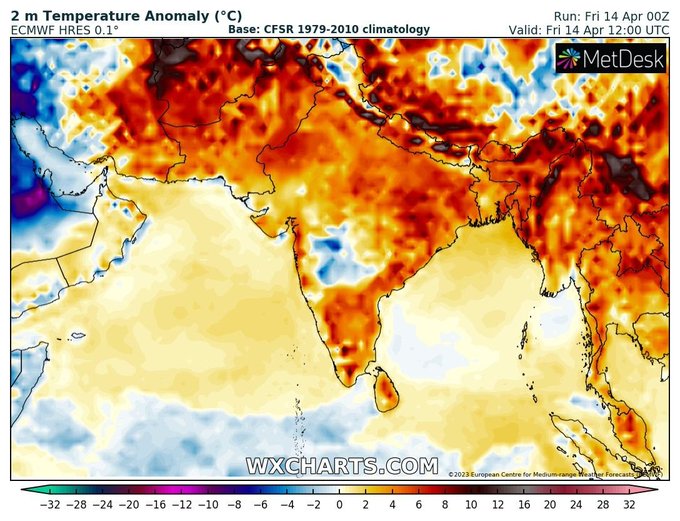 Other countries also recorded record maximum temperatures, including: 44.0 degrees Celsius in Pakistan, 43.5 degrees Celsius in India, 43.3 degrees Celsius in Myanmar, 41.7 degrees Celsius in Bangladesh, and 42 degrees Celsius in Central Asia.
Thailand: the hottest month and the smog makes it worse
April is the hottest month in Southeast Asia's holiday paradise, with large parts of Thailand experiencing an unusually severe heatwave, and Thai authorities have issued health warnings as meteorologists estimate temperatures of up to 50 degrees in the sun. .
In addition, residents of northern Thailand have to deal with smog. It has caused thousands of people to develop respiratory problems and sore throats in recent weeks.
Is this considered a harbinger of climatic changes occurring in the region?
According to the meteorologists at the Arab Weather Center, Thailand, like other neighboring countries in Southeast Asia, is characterized by a tropical climate, which makes it lack a mild atmosphere during the spring season. Rather, hot and dry weather prevails in spring, and heat waves abound in many regions, but for several days Thailand has been affected In a heat wave that can be described as standard, during which very high temperatures were recorded, far exceeding their rates for this time of the year.
Is this considered a harbinger of climatic changes occurring in the region?
In order to answer this question, we must define climate change. Climate change means long-term shifts in temperatures and weather patterns, according to the United Nations. These shifts may be natural and occur, for example, through changes in the solar cycle.
However, since the nineteenth century, human activities have become the main cause of climate change, mainly due to the burning of fossil fuels, such as coal, oil and gas, which led to the emission of large amounts of greenhouse gases, the most important of which is carbon dioxide.
By defining climate change, we see in the staff of weather forecasts at the Arab Regional Weather Center that the unusual weather events that have occurred recently cannot be described as climate changes unless they occur over several consecutive years.
God knows
This article was written originally in Arabic and is translated using a 3rd party automated service. ArabiaWeather is not responsible for any grammatical errors whatsoever.